Garuda is canceling its order for 49 Boeing 737 Max 8 planes

CNN
3/22/2019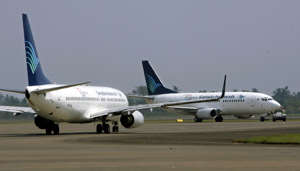 Indonesian airline Garuda said Friday that it's canceling an order for 49 Boeing 737 Max 8 passenger jets after two of them crashed in less than five months.
"Our passengers have lost confidence to fly with the Max 8," Garuda spokesperson Ikhsan Rosan told CNN.
The Indonesian carrier had ordered 50 of the planes and has already received one of them, according to Rosan. It has sent a letter to Boeing saying it no longer wants to receive the remaining jets on order, he said.
It's the latest blow to Boeing over the 737 Max, its bestselling passenger jet. The planes have been grounded worldwide over safety concerns following the crash of an Ethiopian Airlines flight earlier this month.
Boeing representatives are planning to visit Jakarta on March 28 to discuss the request with the airline, Rosan told CNN.
A Boeing spokesperson said the company doesn't comment on "customer discussions."