Lumber Liquidators stock sinks 20% on CBS report

MarketWatch
3/2/2015
Shares of Lumber Liquidators fell sharply Monday after a "60 Minutes" report alleged the U.S. retailer of hardwood flooring has installed Chinese-made laminate flooring in many American homes that contain far higher-than-accepted levels of formaldehyde, a chemical known to cause cancer.
Shares were down by more than 20% at $40.90 in midday trading.
In a damning report, the "60 Minutes" team said three certified labs testing formaldehyde levels in the company's Chinese-made laminate found it far exceeded California emissions standards.
Formaldehyde can cause myeloid leukemia and other cancers at high levels, as well as respiratory issues and eye, nose and throat irritation even at low levels.
What's more, all laminate flooring carried by Lumber Liquidators bears a label indicating that it is CARB Phase 2 Compliant, referring to the California Air Resources Board, which sets standards for formaldehyde emissions in wood flooring. Those standards were adopted by Congress in 2010 in a law that is set to take effect across the U.S. this year.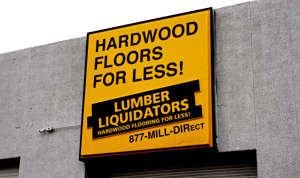 Lumber Liquidators' founder and chairman, Tom Sullivan, told "60 Minutes" that the tests weren't valid and said the company isn't required by law to test finished products, as the program did.
Sullivan defended the company, which is being sued by environmentalists, backed by a group of Wall Street short sellers, who accuse the company of violating California's toxic warning statute. The nonprofit Global Community Monitor has launched a class-action suit against the company.
"Our goal is to sell a good product at a good price," Sullivan told Anderson Cooper of "60 Minutes." "And we don't get the price by skimping on anything. We get the price by low overhead, huge volume and being very efficient at what we do. And we're never [going to] sell something unsafe."
However, "60 Minutes" sent a reporting team to China to investigate the mills that supply Lumber Liquidators. Posing as buyers and with the use of hidden cameras, the team were told by employees that the mills were indeed using core boards with higher levels of formaldehyde to save the company up to 15% on price. All three mills also admitted falsely labeling products as CARB 2–compliant.
"In 16 years of professional money management, I've seen hundreds of companies do all sorts of bad things to get their stock prices up," hedge fund manager Whitney Tilson told Cooper. "But this has got to be the worst. "
Tilson was one of the first people to raise questions about Lumber Liquidators in 2013, after he noticed it had far wider profit margins than its peers. He said he learned that the company was being probed for allegedly buying timber illegally logged in Russia. The company denied those charges, but said last week the Department of Justice may file charges against it.
Sullivan said the company would immediately investigate the "60 Minutes" team's findings.
Lumber Liquidators has 352 stores in 46 states and Canada, according to its most recent earnings report. Sales totaled $1.05 billion in 2014, up from $1 billion in 2013. Net income fell 18.1% to $63.4 million.