Olive Garden's New Unlimited Pasta Pass Could Include a Trip to Italy for Only $100 More

The Daily Meal
9/12/2017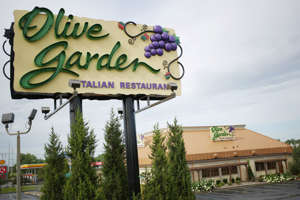 Olive Garden's Never Ending Pasta Pass is coming back Sept. 14!
This year Olive Garden will celebrate the 22nd anniversary of the Never Ending Pasta Bowl. The Italian-style chain will be selling 22,000 pasta passes to customers during a one-hour time frame on Sept. 14.
Pasta lovers who claim a pass for $100 will enjoy eight weeks of unlimited pasta, sauces, toppings, soup or salad, and breadsticks beginning Sept. 25 all the way through Nov. 19.
Even more exciting than never ending pasta, 50 Olive Garden customers will have the chance to buy an all-inclusive pasta passport for a trip for two to Italy for just $200! This once-in-a-lifetime opportunity is only $100 more than a pasta pass but will have all of the same rewards.
The exclusive pasta passes and pasta passports will be available here for one hour only beginning Sept. 14 at 2 p.m. Eastern time. Get it while you can, because in previous years Olive Garden's pasta passes sold out in less than a minute.
Love pasta? Check out our 20-best ever pasta recipes to whet your appetite.