Penalties against China telecom giant ZTE become a bargaining chip as White House, Chinese officials discuss potential trade deal

The Washington Post
5/14/2018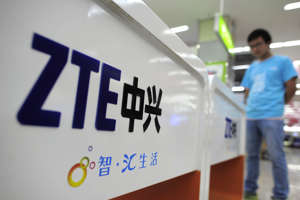 The White House and senior Chinese officials are discussing a targeted economic deal that would relax severe penalties on ZTE, a major Chinese telecom company, in exchange for unspecified demands from President Trump, two people briefed on the discussions said Sunday.
The talks are fluid, and President Trump has shown a willingness to veer between extremes in how he interacts with Beijing. But Trump said Sunday on Twitter that he wanted federal regulators to take the unusual step of relaxing penalties on ZTE, even though the Chinese company has been accused of illicitly shipping goods to North Korea and Iran.
What Trump didn't reveal publicly is how much the company has become a bargaining chip as the White House tries to extract trade-related concessions from China while pushing for cooperation on sanctions against Iran and North Korea, the people said.
Trump pledged on Sunday to help Chinese telecom giant ZTE return to business, days after the company said it would "cease major operating activities" because of the U.S. government's recent trade restrictions. Those restrictions bar U.S. firms for seven years from exporting critical microchips and other parts to ZTE.
Subscribe to the Post Most newsletter: Today's most popular stories on The Washington Post
"President Xi of China, and I, are working together to give massive Chinese phone company, ZTE, a way to get back into business, fast," Trump tweeted. "Too many jobs in China lost. Commerce Department has been instructed to get it done!"
The comment marked a sharp shift in tone for a president who has long accused China of stealing U.S. jobs. The Treasury and Commerce Departments have been strongly aligned against ZTE as recently as several days ago in one of the toughest actions to date against a Chinese company.
With Trump's Tweet, some people familiar with the ZTE issue believe a compromise on some areas is possible. "A mini-deal is in sight," said a person familiar with the matter. "China gets relief for ZTE, and in exchange agrees to return to the status quo for U.S. agriculture," easing tariffs and implementing other non-tariff remedies.
But the talks have not been amicable. Chinese President Xi Jinping has been irate about the sanctions on ZTE, and his top economic adviser Liu He has told U.S. negotiators that there is no chance of a deal without the United States removing the seven-year ban, said the person, who spoke on condition of anonymity to discuss a sensitive matter.
Trump's tweet on Sunday comes just before U.S. officials expect to meet with Liu in Washington this week or next to discuss the strained trade ties.
A high-level Chinese delegation was in Washington on Friday and raised the issue of whether the Trump administration could relax its stance on ZTE. The law firm Hogan Lovells, which has represented ZTE, has also been asking people close to the administration for ways to alter the U.S. position, according to a veteran lobbyist.
Nonetheless, the president's shift on Sunday caught many advisers flat-footed because there had not been a broad agreement to change the administration's position.
"This act appears to pull the rug out from under those in the administration trying to pressure China to restrain its industrial policies and better protect intellectual property," said Scott Kennedy, an expert on business and China at the Center for Strategic and International Studies.
"China has been making a variety of arguments against the ZTE penalties, including referring to the US action as ''commercial terrorism,' which is ironic given who ZTE was doing business with," Kennedy added. "They also have played the sympathy card by referring to the many ZTE employees who will potentially lose their jobs."
A former senior Obama administration official said Trump's tweet set "a horrible precedent" and violates the basic principle that the White House avoid involvement in law enforcement matters.
"Now we've opened up every law enforcement action that the United States takes, where other countries will think 'Aha, I can impose this economic pain or this tariff or this market access restriction, and I can use this as a chit to trade off against more favorable treatment with the law enforcement case," said the former official, who spoke on condition of anonymity because he was not authorized to speak on the matter by his current employer.
It's highly unusual for a president to personally intervene in a regulatory matter, which could undercut the leverage of Treasury and Commerce officials seeking to enforce sanctions and trade rules. It could send the signal to foreign leaders that anything can be put on the bargaining table as Trump seeks to cut trade deals, trade analysts said.
"It seems to cut across the concern about tech competition with China, supplying Iran, and jobs in China, so it all seems pretty confusing," Adam Segal, the director of the Digital and Cyberspace Policy Program at the Council on Foreign Relations, said of Trump's tweet. "That's why everybody's so flabbergasted by it. We've had from the beginning of this administration an increased drumbeat of warnings about ZTE and Huawei and the threat to U.S. security by having any of their products in the United States or U.S. supply chains."
ZTE's business in the United States has long raised concerns among national security officials. Shortly after Trump's tweet, Rep. Adam B. Schiff (D-Calif.) said, "Our intelligence agencies have warned that ZTE technology and phones pose a major cyber security threat. You should care more about our national security than Chinese jobs."
In a statement, White House spokeswoman Lindsay Walters said, "The President's tweet underscores the importance of a free, fair, balanced, and mutually beneficial economic, trade and investment relationship between the United States and China. The administration is in contact with China on this issue, among others in the bilateral relationship. President Trump expects [Commerce] Secretary [Wilbur] Ross to exercise his independent judgment, consistent with applicable laws and regulations, to resolve the regulatory action involving ZTE based on its facts."
A ZTE spokesman did not respond to an email seeking comment.
Meanwhile, Trump is trying to broker a historic agreement with North Korea in an attempt to denuclearize the Korean Peninsula. The president has said that his economic approach to China is linked to his national security strategy, and China plays an integral part in any decision made by North Korean leader Kim Jong Un.
Trade tensions between the United States and China remain high. Trump has proposed tariffs on as much as $60 billion in Chinese goods, and Beijing has responded in kind, prompting only continued threats from the president, who repeatedly lamented the trade deficit between the two countries during the 2016 presidential campaign. Recently, the Trump administration also has sought to limit the encroachment of Chinese telecommunications firms in the United States.
The U.S. government initially penalized ZTE in 2017, requiring it to pay $1.19 billion to settle charges that it violated U.S. sanctions in selling equipment to Iran and North Korea. As part of the settlement, ZTE also was required to punish employees involved in the matter and tighten its internal monitoring.
But U.S. officials said this year that ZTE didn't discipline all the employees involved in the violations. "This egregious behavior cannot be ignored," Ross said last month, as the U.S. announced its punishment to ban U.S. firms from supplying ZTE. The company, which is the fourth largest smartphone maker behind Apple, Samsung and LG, relies on microchips, glass and other parts from U.S. firms such as Qualcomm, Intel and Corning. ZTE generally makes inexpensive smartphones, which have grown in popularity in recent years.
"It was clear to me that there was a range of options between a handslap and 'I destroy you as a company' and Secretary Ross decided to go with 'I destroy you as a company,'" said Chris Johnson, a former CIA analyst and a senior adviser at the Center for Strategic and International Studies.
In addition, the Defense Department in April ordered military exchanges to cease selling ZTE phones on U.S. bases. And the Federal Communications Commission recently moved toward prohibiting U.S. Internet providers that receive federal funds from spending them on equipment made by companies such as Huawei, another major Chinese telecom player.
It was difficult to pinpoint what led to Trump's tweet on Sunday. ZTE has been active in seeking to change the president's mind. It has been working with the law firm Hogan Lovells, among others, who sought advice from people close to the administration, according to a person familiar with the matter, speaking on condition of anonymity to speak freely about the matter. In 2017, ZTE paid the Podesta Group $250,000 for lobbying as well as $200,000 to a firm called Appo-G LLC. This year it has continued to pay Appo-G and its lobbyist Jon Christensen $50,000.
The counsel the company received was that it should alter its board of directors, change corporate governance, and make sure that Chinese President Xi Jinping was informed in case Trump brought the issue up in a phone call with the Chinese leader, the person said.
It was not clear if Commerce officials were consulted on the President's tweet. A spokesman for the Commerce Department did not respond to a request for comment Sunday.
"This whiplash-like approach to the Commerce Department's exercise of such far-reaching authority is unusual and unwise, particularly if it wasn't the product of careful interagency discussion and analysis weighing all the pros and cons," said David Laufman, a former Justice Department official responsible for the criminal enforcement of U.S. export control and sanctions laws.
Trump's international economic policies have been marked by ultimatums and threats that are frequently followed by exemptions and reversals. Foreign leaders often do not know whether he will follow through on something he vows to do or whether he will back down.
For example, he has said that he would impose tariffs on steel and aluminum imports, but he has temporarily exempted Canada, Mexico, the European Union and several other countries while leaving China and Japan searching for answers. His advisers have launched official or unofficial trade discussions with numerous countries, and these talks are wrapped in uncertainty because it is unclear whether Trump will follow through on promises to impose tariffs, even if they might raise prices for U.S. consumers.
But nowhere is the United States' trade relationship as complicated as with China. During the campaign, Trump blasted China for what he alleged was a pattern of cheating through currency devaluation and other measures to steal American jobs and hurt U.S. workers.
The United States buys more than $500 billion in goods from China each year, but Trump has proposed to force China to buy an additional $200 billion in goods from the United States.
Several weeks ago, as tensions between the White House and Beijing escalated, both sides promised to impose increasingly severe trade restrictions on the other, spooking financial markets amid fears of a trade war.
Chinese leaders have tried to resist Trump's demands, but in recent weeks they have shown a willingness to negotiate. The economies are inextricably linked, as China relies on U.S. consumers to buy many of its products, and the United States relies on Chinese producers for a range of goods.
Trump has repeatedly cited a "friendship" with Xi, though they've met only a few times, and he has said that this relationship will endure no matter what happens with the trade talks.
Hours after his initial tweet on Sunday, Trump issued a second remark on the matter on Twitter: "China and the United States are working well together on trade, but past negotiations have been so one sided in favor of China, for so many years, that it is hard for them to make a deal that benefits both countries. But be cool, it will all work out!"
Tony Romm contributed to this report