The largest company in every state

24/7 Wall St.
5/13/2016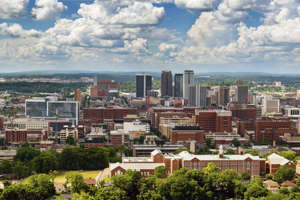 Click through the slideshow above to see the largest company in each state.
The largest companies in the United States are almost all concentrated in major metropolitan areas. Nearly one in 10 Fortune 500 companies are headquartered in New York City. The five largest cities in the U.S. by population account for more than one fifth of the 500 largest public U.S. companies by revenue, and that's not counting, for example, the substantial metropolitan regions of the San Francisco Bay Area or the New York tri-state area, which have dozens more.
Still, there are plenty of major U.S. corporations that, for any number of reasons, are headquartered in smaller states, sometimes even in remote cities. Wal-Mart, the largest company in the world, is based in Bentonville, Arkansas, a town with a population of barely 40,000 people. While every state does not have a Wal-Mart, all but four states were home to at least one company with $1 billion or more in annual revenue. 24/7 Wall St. reviewed the largest companies in each state.
While these companies are the largest in their home states, they are not necessarily among the largest in the nation. Exxon Mobil, the largest company in Texas and the second-largest in the U.S., reported revenue of $411.9 billion last year. That is roughly 4,100 times the annual sales of Bloedorn Lumber, the business generating the most revenue in Wyoming.
Going public confers some important benefits for large companies, including providing additional revenue streams and increasing visibility. For this reason, the vast majority of the largest companies in each state are public. The largest company in all but 13 states is publicly traded.
Still, there are dozens of very large corporations that never opted to make a public offering, and in many cases, these companies generate the most revenue of any enterprise in a state. Wichita, Kansas-based Koch Industries, for example, dwarfs the operations of Spirit Airlines, the state's largest public company. Spirit reported annual revenue of $6.8 billion, a fraction of Koch's $121 billion.
Regional industries are often a strong indicator for what the biggest company in the state will be. In Nevada, where the Las Vegas economy generates a large share of state GDP, every large publicly traded company is a casino resort corporation, including Las Vegas Sands, the biggest in the state. In Michigan, home of Detroit, the motor city, General Motors is the biggest company.
To identify the biggest company in each state, 247 Wall St. reviewed the 1,000 largest public U.S. companies by revenue from Fortune. Revenue figures for the largest private companies in the country were provided by PrivCo. When available, more recent figures were obtained from annual SEC filings.
More on 24/7 Wall St.:
The Next 11 States to Legalize Marijuana
The Hardest States to Find Full-Time Work
States With the Fastest (and Slowest) Growing Economies