Bottled Water Targeted in Washington State

The Wall Street Journal.
2/19/2020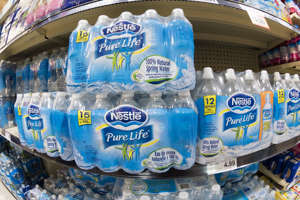 Lawmakers in Washington state are moving to ban the tapping of natural water by bottled-water companies, a new approach in a growing push by environmentalists and some public officials against the industry.
A bill blocking new permits for taking water from natural sources for bottling passed the state Senate Monday. If approved by the rest of the Democratic-run Washington government, it would become the first such statewide ban in the nation.
Activists across the country are trying to limit the production and use of bottled water because they argue it damages natural springs and aquatic life and contributes to a global problem of plastic waste.
In Michigan, a state appeals court issued a ruling in December supporting a local township's decision to deny Nestlé Waters North America a zoning permit that the company said would have helped it transport water more efficiently. In Florida, a citizens' group has launched a petition to block a local company from renewing a permit to withdraw water that it sells to Nestlé.
Get news and analysis on politics, policy, national security and more, delivered right to your inbox
Elsewhere, concerns over the plastic used in the bottles have prompted bans of the product in dozens of schools as well as some cities, including San Francisco.
"Bottled water is unnecessary and wasteful and really damages the environment," said Mary Grant, a campaign director for Food & Water Action, a nonprofit group based in Washington, D.C.
Bottled-water industry officials deny that their operations harm the environment and say the proposed Washington ban and other restriction efforts are based on misguided information. "The proponents of these anti-bottled water efforts use emotionally charged arguments that are not based on facts or sound science," officials of the International Bottled Water Association said in a statement.
Related video: Where your old cardboard boxes end up
A spokeswoman for Nestlé, part of Swiss-based Nestlé SA, said the company has decided to abide by the Michigan appeals-court decision and "explore other options" to transport the water, although its goal was to reduce any local impact. She said the company's investment in Florida supports more than 900 jobs.
The Washington state ban, which would be retroactive to permits sought after Jan. 1, 2019, was proposed after another bottling company, CG Roxane LLC, also known as Crystal Geyser Roxane, bought an 80-acre parcel of land in the mountains about 100 miles south of Seattle and began exploratory drilling operations for water there.
Craig Jones, a retired high-school teacher who lives with his wife across the road from the property, said he began hearing the drilling in March of last year. "We didn't move here to live next to an industrial development," said the 67-year-old Mr. Jones, whose home is located in a scenic valley between Mount Rainier and Mount St. Helens.
Some residents mobilized to fight the effort. The local Lewis County Commission went on record against it, as did the nearby Cowlitz Indian Tribe.
Officials of Crystal Geyser, a California-based company not affiliated with Japanese-owned Crystal Geyser Water Co., didn't respond to requests for comment.
The bill to ban new extraction there and elsewhere in Washington state was introduced by Democratic Sen. Reuven Carlyle and co-written by Republican John Braun and other Democratic senators. It passed the Senate on a largely party-line vote, with most in the Republican minority opposed.
Mr. Carlyle said he took on the bill after becoming concerned that too much water was being bottled in mountains across the West.
"The problem with massive amounts of bottled water is it disconnects from today's need to reduce our addiction to single-use plastic and our need to reduce overuse of our water," Mr. Carlyle said.
Local industry representatives testified in a hearing on the bill that they stand ready to work toward solutions around the issue of plastic, but that the bill would hurt an industry that supports the state economy and could affect companies with existing operations that will need additional permits down the line.
Mr. Carlyle said the bill, which now goes to the state House, faces an uncertain outcome, given the industry opposition. "It is not a slam dunk," he said.
"We're looking at banning of a certain industry," Judy Warnick, a Republican who voted against the measure, said in a Feb. 6 hearing. "What we're doing is taking away the right of the locals to decide that."
A spokesman for Democratic Gov. Jay Inslee said he is following the legislation, but hasn't yet taken a position.