The FDIC's new boss says she's ready to rethink bank oversight

Bloomberg
6/19/2018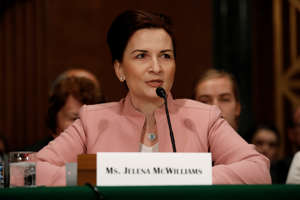 Jelena McWilliams' first public remarks as chairman of the Federal Deposit Insurance Corp. show she's probably a good fit with other regulators President Donald Trump appointed to overhaul how banks are supervised.

Speaking at an industry conference in Washington on Tuesday, McWilliams indicated she supports easing the demands of so-called living wills, opposes using agency guidance in place of formal rules and is willing to reconsider how regulators rate banks' health. She also expressed suspicion about the power of the Basel Committee on Banking Supervision and other international standard-setters -- a view in line with Republican lawmakers she once worked for as a U.S. Senate staffer.
The former Fifth Third Bank executive was sworn in two weeks ago as the last of Trump's appointed banking regulators, clearing the way for easing rules that they say have overburdened lenders. However, McWilliams was so far noncommittal on her views about initiatives that are already underway, including an effort to ease the constraints of the multi-agency Volcker Rule that restricts banks' ability to engage in short-term investments on their own behalf.
"I didn't have the benefit of a lot of those debates that took place," she said at the conference sponsored by the Securities Industry and Financial Markets Association and the Clearing House. "I'm looking at it with a fresh eye."
McWilliams said she wants to implement the recently enacted overhaul of the Dodd-Frank Act "as soon as possible" -- especially where it grants relief to smaller banks. Wall Street will be watching McWilliams to see whether she signs onto proposals by the Federal Reserve and Office of the Comptroller of the Currency to overhaul bank leverage limits on banks, a move resisted by her predecessor, Martin Gruenberg. She didn't address that issue Tuesday.
Joseph Otting, who took over the OCC last year, said he's begun talking with McWilliams about revising the Community Reinvestment Act. Otting said he thinks McWilliams shares his view that overhauling those regulations is a priority that will "make a difference in the world."
"I think she'll be a strong voice with a strong opinion," Otting told reporters at the conference.