Trump tries to cut China out of trade deals with partners
The Financial Times
10/7/2018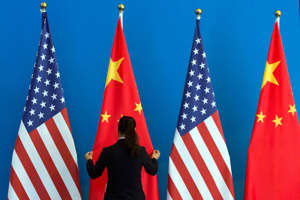 The Trump administration is seeking to stop the EU, UK and Japan from striking separate trade deals with China as it tries to impose economic isolation on its Asian rival.
The US's revamped Nafta trade deal with Canada and Mexico includes a provision that would require its two neighbours to give notification of any trade negotiations with a "non-market economy". That clause could also force those countries to disclose details of any talks and allow Washington to walk away from the Nafta agreement if such a separate deal were completed. 
The measure triggered a backlash in Canada, where critics said it enshrined a loss of sovereignty for Ottawa and limited its own trade policy.
Download the Microsoft News app for your Android or iPhone device and get news & live updates on the go.
But a senior White House official said the US would try to replicate it in other negotiations, including talks that have started with the EU and Japan as well as future talks with the UK after it leaves the 28-member bloc. 
"Will this be a precedent for the future? Absolutely," a senior White House official said on Saturday. "It is important that we make sure that any agreements we enter into do not ultimately get undermined and [that] China does not find a backdoor way to gain access to the US market."
The provision — in article 32.10 of the  US-Mexico-Canada-Agreement, as Nafta was rebranded — was striking because it offers US allies a binary choice between Washington and Beijing.
"The political message is more significant than the legal effect," said Roland Paris, a professor of international affairs at the University of Ottawa. "The message to Canada is 'Watch yourself with China', and the message to China is 'Keep your hands off North America'." 
Justin Trudeau, Canada's prime minister, had launched exploratory trade talks with Beijing. The Trump administration raised this as a concern during the talks, leading them to insist on the clause about non-market economies (NMEs). 
Jorge Guajardo, a former Mexican ambassador to China and a senior director at McLarty Associates in Washington, said the clause would be welcomed in  Mexico since it had no intention of striking a deal with Beijing in the near future.
"It is fair to say unless China becomes a market economy they should not be trading on an equal footing with the rest of the world," Mr Guajardo said. But he added: "This is [Trump's] version of George W Bush's 'Either you're for us or you're against us [at the time of the Iraq war]'." 
Arthur Dong, a professor at Georgetown University's McDonough School of Business, said the US push to constrain other countries in dealing with China marked a "very significant departure from the previous US trade posture" and "nothing less than an intended strategic reset of the global trade order". 
"Should the EU or Japan contemplate a direct trade deal with China, they will have to act very cautiously as there will be consequences to such actions," Mr Dong said. 
Dan Price, a former senior official in the George W Bush administration, added: "This is essentially extending US secondary sanctions architecture through a trade agreement: if you wish to have preferential access to the US market, you may not conclude FTAs with countries we don't like."
The Trump administration appears to have every intention of applying the same restraints in dealing with China to the UK in any future talks with the US after next year's departure from the EU.
"I'm not going to say we are absolutely going to put an NME clause in that arrangement . . .[but] if we do enter into an FTA with the UK, are we going to say, you need to work with us on provisions to counter the biggest threat to the global trading system? Absolutely," the White House official said. 
The likelihood of America's trading partners moving to ink deals with China is fairly small. The US, Japan and the EU have already been working together to try to define a common position on unfair trade practices by Beijing. There are scant expectations of Brussels rushing to strike an agreement with Beijing or that China might try to join the Trans-Pacific Partnership, a trade deal that includes Japan and other Pacific nations.
Nonetheless the US seems sensitive to such possibilities. 
"We have been very concerned about the efforts of China to essentially undermine the US position by entering into arrangements with others," the senior White House official said. "Our view is that the threat that China poses is something we need to work on . . . and we need to be unified with that."
China has reacted with irritation. In a statement to Canadian reporters, China's embassy in Ottawa said the clause reflected "dishonest behaviour" that violated the sovereignty of nations and reflected false definitions of market and non-market economies. 
The US stance does have a recent parallel, in a different setting. Just last month, Emmanuel Macron, the French president, said his country would not accept trade deals with countries that did not abide by the Paris climate accord— a thinly veiled reference to the US, which has pulled out of the pact.