US futures point to slight recovery after Tuesday's market rout

CNBC
12/5/2018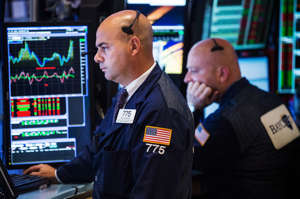 © Andrew Burton/Getty Images   U.S. stock futures on Tuesday evening stateside pointed to a slight rebound from the steep losses seen in regular trading.
Dow Jones Industrial Average futures climbed 82 points, indicating a gain of 85.93 points at Thursday's open as at 8:55 p.m. ET. S&P 500 and Nasdaq 100 futures also pointed to slight gains. The U.S. stock market will be closed on Wednesday out of respect for former President George H.W. Bush's funeral.
In after-hours trading, the SPDR S&P 500 ETF Trust (SPY) rose about 0.28 percent. Meanwhile, the Invesco QQQ Trust — which tracks the Nasdaq 100 index — gained around 0.37 percent.
The Dow Jones Industrial Average plunged 799.36 points earlier on Tuesday, while the S&P 500 dropped more than 3 percent. The Nasdaq Composite, meanwhile, fell 3.8 percent to close in correction territory.
The yield on the three-year Treasury note surpassed its five-year counterpart on Monday. When a so-called yield curve inversion happens — short-term yields trading above longer-term rates — a recession could follow, though it is often years away after the signal triggers.
Stocks began falling to their lows of the day after Jeffrey Gundlach, CEO of Doubleline Capital, told Reuters this inversion signals that the economy "is poised to weaken."
Some bond experts, however, have said it may not be time to panic yet.
While inversions have been reliable recession indicators in the past, the most important relationship — between the 3-month and 10-year government notes — is not inverted and thus hasn't indicated the likelihood of a contraction ahead.
The market concerns were further exacerbated by confusion surrounding the agreement that was struck between U.S. President Donald Trump and Chinese President Xi Jinping over the weekend at the G-20 summit in Buenos Aires, Argentina.
The two economic powerhouses have been locked in an ongoing trade war, which has continued to rock global markets for much of 2018.
While the U.S. and China agreed over the weekend to hold off on any additional tariffs on each other's goods, there have been conflicting messages coming from within the White House as well as differing opinions from Trump, Washington and Beijing over the actual details of the agreement.
The CBOE Volatility Index, popularly known as the VIX, leaped about 26.16 percent to 20.74. The VIX measures implied volatility on S&P 500 index options. It had earlier hit a high of 21.94 — its highest levels since Nov. 23 when it touched a high of 22.65.
— CNBC's Fred Imbert and Jeff Cox contributed to this report.