This reckless financial habit will ruin your chances of ever finding love

MarketWatch
2/11/2018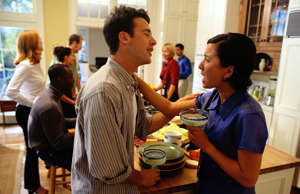 © Getty Images   Want to impress your date? Show some restraint.
Splurging like there's no tomorrow (or retirement age) is one sure-fire way of making sure you stay single. Some 40% of people say irresponsible spending is a bigger turnoff than bad breath and more than half say they wouldn't marry someone with bad credit, according to a nationally representative survey by personal-finance site Nerdwallet. What's more, more than one-third of respondents said financial secrets are the worst type of money problem for a relationship.
Americans are still nursing their wounds from the Great Recession and want to find a partner who shares the same financial values. Some 42% of adults say knowing someone's credit score would affect their willingness to date that person, a separate study by personal finance website Bankrate.com found. "Finances, education, and job prospects all factor into the value of a potential mate," says Jeffrey Hall, associate professor of communications at the University of Kansas.
It's better to learn these lessons earlier in a relationship rather than later. One in five people in a live-in relationship admit to "financial infidelity" — keeping a private bank account or credit card without telling a partner, according to a study released last month by CreditCards.com. The survey found 31% of millennials, 24% of people ages 38 to 53, and 17% of baby boomers have at some point had an account they keep secret from a partner.
Don't miss:Single iPhone users don't want to date someone with an Android
The common wisdom for attracting a mate is to act like a big cheese. Last year, Charles Grassley, the Republican senator from Iowa, had a theory on how Americans spend their money: "I think not having the estate tax recognizes the people that are investing, as opposed to those that are just spending every darn penny they have, whether it's on booze or women or movies." (He was speaking in defense of the Trump administration's new tax policies, but he may have a point.)
Others, like Alan, a combat veteran in his 30s, value frugality. He told MarketWatch, "In order to date a woman in New York City, you have to spend $200 or $300. That's the 'trumpets and confetti' night out: Dinner, drinks at a cocktail bar, nightclub and an Uber home." And now? He has developed a strategy for cheap dates. For the first couple of dates at least, it doesn't cost him a penny. "I don't know how heterosexual men in America date without going broke," he says.
His strategy: He takes women for a walk around the Jacqueline Kennedy Onassis Reservoir in Central Park. "The type of person that moves to New York City is often times beautiful and intelligent," he says, "and she is going on a date with a 6'3" Ivy League banker. In Central Park, I can distinguish myself in ways that I wouldn't be able to if I was stuck in a restaurant or bar." That, according to the latest survey, is something many people are looking for in a partner.