Are We in a Baby Boomer Retirement Crisis?

Investopedia
3/9/2017
Baby boomers, born between 1946 and 1964, are heading into retirement in droves (about 10,000 a day, in fact). Along with the aging of this iconic cohort come lots of data about their poor preparation for their golden years. Insufficient preparedness and lack of financial resources for decades without steady employment paint a gloomy picture for many retirees.
Are we facing a Baby Boomer retirement crisis? There may not be an easy answer, but read on for data that helps shed some light into this large generation's economic situation. (For related reading, see: How Baby Boomers Will Change the Way Others Retire.)
Baby Boomer Retirement Research
Last year, GoBankingRates published research conducted with 1,504 adults over the age of 55 (4.3% margin of error). About 30% of the respondents age 55 and over claimed to have no retirement savings. An additional 26% reported less than $50,000 saved for retirement. When considering typical benchmarks needed for a successful retirement, 54% of the older Americans in this survey lacked sufficient retirement funds.
But not all baby boomers lack retirement reasonable retirement assets. At the other end of the spectrum, 26% of those 55 to 65 years old have balances greater than $200,000. Of the over-65-year olds, 31% had $200,000 or more in their retirement accounts. That's a bit heartening, but this chart paints a gloomier picture for those closest to retirement age: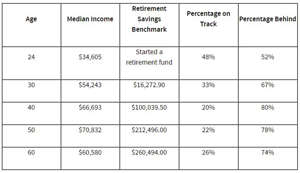 Why They're Lacking Funds
Possible causes for why Boomers are lacking in retirement funds are multi-dimensional. One reason is the big stock market decline in low interest rates have drastically damaged the funds of savers and retirees as their money is earning virtually no interest. Also, with wages plateauing, it's difficult for most workers to ramp up savings.
In terms of how much Social Security is paying out to retirees, in January 2017 the average payment is approximately $1,317.
Is This a Crisis?
About 84% of retirees today receive Social Security benefits in contrast with only 69% of retirees in 1962. Clearly, the average Social Security benefit of $1,317 per month is substantially less than the average wage, although roughly 50% of seniors have additional asset income today compared with 54% back in 1962. 
Whether or not we can call this a crisis depend on many factors including what type of assets Boomers are drawing from. If a Boomer owns his own home and lives in a lower-cost-of-living area, he may be able to live on quite a bit less than a rent-paying retiree or senior living in a major metropolitan area.
The Bottom Line
For those depending on Social Security benefits for their senior years, retirement will likely be difficult in terms of maintaining a comfortable lifestyle. But whether baby boomers are in a retirement crisis depends on how you measure the situation, where seniors are living and how their situation compares with their predecessors. There's really no easy answer.