Growing debt among older Americans threatens retirement

CNBC
4/6/2018
When Fay was laid off from her job in her 70s, she contemplated retirement.
Then a painful reality hit when she realized she didn't have a nest egg that could cover her expenses or past debt.
Fay has $50,000 in outstanding student loans from when she had gone back to school in her 50s to get her M.B.A. She also has a mortgage on her house in Coatesville, Pennsylvania, and another $50,000 in credit card debt.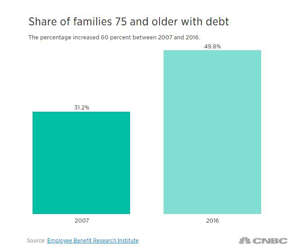 (Fay agreed to be interviewed only if her last name was not used, because she is afraid of collection agencies hunting her down).
After being laid off, Fay eventually landed a part-time job making appointments for a sales staff.
She worries about her massive debt and dreads the day she won't be able to earn a paycheck.
"I see myself with no house," Fay said. "Living on the street."
She is not alone.
Debt among older Americans is rising fast. In 2016, the average debt in families in which the head of the household is age 75 or older was $36,757. That is up from $30,288 in 2010, according to a recent report by the non-profit Employee Benefit Research Institute in Washington.
High balances and calls from collection agencies can leave many older Americans feeling helpless.
The average monthly Social Security check is $1,404, and more than 40 percent of single adults receive more than 90 percent of their income from that check, according to the government.
"There's just fewer options that you have at that stage of the game," said Justin Halverson, a financial advisor and co-founder of Great Waters Financial in Minneapolis.
But the situation is far from hopeless. Here's what you can do. 
1) Get your budget in order 
Mapping your expenses will help you see where, and if, you have room to chip away at your debt, financial experts say. Doing so will also make it more likely that you stick to a budget, and therefore avoid falling deeper into debt.
The National Council on Aging offers the Economic Check Up, a website where users can obtain a free personal report on money management and budgeting. (There is also a job search at the site.)
Plug in a few simple questions on the NCOA's Benefits Check Up page and the online tool will screen your eligibility for thousands of benefits for seniors, including meal deliveries and myriad potential tax savings, that could potentially help you to pull down your overhead.
To brace for coming health-care costs and possibly find ways to save on them, check out AARP's health-care cost calculator. For Medicare specific information, go to My Medicare Matters. 
2) Do what you can
As for that debt issue, Halverson recommends reaching out to collection agencies to find a way to negotiate more favorable terms.
"If you have debts with a hospital, I've heard stories where people have called in, told them their situation and the hospital was able to forgive some of the debt," Halverson said. "Open communication is always going to be a good thing."
Similarly, if you foresee problems paying your mortgage, contact your financial institution as soon as possible, said Lori Trawinski, director of banking and finance at the AARP Public Policy Institute.
"If you wait until you're three or four months delinquent, it's much more difficult to get help," Trawinski said.
She also recommends reaching out to a non-profit housing counselor for help. The U.S. Department of Housing and Urban Development publishes a list of certified housing counselors by location.
Some people will try to reverse their mortgage, which allows homeowners over the age of 62 to withdraw equity from their property, although keep in mind there are a lot of scams and options that might be wrong for you.
Also, financial experts say to try to at least make the minimum payments on your credit card.
By doing so, "you're not having actions taken against you," said Craig Copeland, a senior associate with EBRI.
But keep in mind that the less you pay, the longer you'll be stuck with a debt — and, thanks to interest accrual, the greater it will become. So pay more if you can and look to avoid using that credit card all together.
Also make sure your rights are not being violated. The Consumer Financial Protection Bureau offers information on how to protect yourself from collection agencies. 
3) Consider lifestyle changes
"To pay off the debt, you're going to have to give up some living standards," said Copeland. "You may have to stop traveling or going out for dinner."
Some people will relocate to a place where the cost of living is cheaper. You can compare what your expenses would be in different locations with the NCOA's "Elder Index."
If you have enough equity in your house to sell it, you will, in certain cases, be able to avoid a number of costs because you're no longer responsible for property maintenance.
"They may be able to move into a retirement community, where there may be a better social aspect than living in a house in the suburbs with a bunch of young people," Copeland said. "Or they may have to move in with a relative or friend, to share living expenses."
More from CNBC: Protect your bank accounts from rising debit card fraud.
But if you're underwater on a mortgage, he said, "it doesn't make any sense to sell your house, because then you're just left with a debt and no place to live." People in those circumstances might consider renting out a floor or room in their house, although this requires a lot of work.
Another way to bring in more money, of course, is to work part-time if possible.
"We encourage people to work longer, if they can, because every year you work is one year less that you have to finance in retirement," said Trawinski at the AARP Public Policy Institute. 
4) Ditch the regret 
The last thing you want to spend your older years doing is replaying your wrong financial decisions over and over again. Clearly, you're not alone.
"We all make mistakes," said Halverson at Great Waters Financial. "The first step toward moving forward is looking backwards and forgiving yourself."