5 ways to invest in gold today

GOBankingRates
1/21/2017
When international governments are in turmoil, gold serves as a hedge against geopolitical risk. Owning gold might protect your money from currency devaluation and could also protect you if there is a stock market plunge, according to Time Money.
Ultimately, investors looking for additional portfolio diversification might want to invest a portion of their investment capitals into gold. If you're wondering how to invest in gold, there are many different ways. Click ahead for smart five tips and you'll be on your way.
Avoid These: 20 Worst Mistake Rookie Investors Make
Buy Physical Gold
© Africa Studio / Shutterstock.com You can buy gold from a gold broker's website in the form of bars and coins in a range of sizes. Choices include American Gold Eagle, American Buffalo and Canadian Maple Leaf gold coins. Gold miners find the precious metal, which is ultimately sold by private and government mints worldwide.
A gold coin contains one troy ounce of gold, which equals 1.1 U.S. ounces. Like a stock share, the world commodities markets determine the spot price, or cost of, an ounce of gold. On Jan. 13 the price of an ounce of gold was $1,197.15. However, that purchase price did not include the gold broker's commission you would have had to pay.
You can buy gold coins and store them in a safe deposit box for approximately $30 to $70 per year or shell out 0.5 percent to 1 percent of their value to store them with a broker. Whichever you choose, the fee will typically cover your investment against theft or loss.
Buying gold in bars is another option. Among the many who sell gold bars, Credit Suisse is one of the most well-known, according to the Journal of Accountancy. One advantage of buying gold bars over coins is that the bars' commission prices are typically lower. Gold dealers will sell, hold and buy your physical gold, but before you make the investment, perform your due diligence on the dealer you're considering.
It's important to keep in mind that physical gold is taxed as a collectible when you sell it. And the tax rate is higher than the long-term capital gains rate for stocks that you hold for more than a year.
You don't get paid dividends or interest for holding gold like you do when you invest in stocks, bonds or CDs. When you buy gold, your investment either pays or doesn't, depending on the future commodity price. If gold's value increases, you win; if its value drops, you lose.
Although bullion is the better choice for investing in physical gold, buying jewelry is another option for buying physical gold. Gold jewelry is typically more expensive than bullion because it needs to be designed and crafted, but if you choose this option, you can use it as a fashion statement as well as an investment.
Find Out: Should Gold Prices Impact Your Investment Strategy?
Purchase Gold Funds
© garagestock / Shutterstock.com If you're not interested in investing in coins and bars you might want to consider mutual, exchange-traded and closed-end gold funds. These funds invest in securities held by companies involved in gold-related activities. Gold mutual funds include First Eagle Gold (SGGDX) and Tocqueville Gold (TGLDX); exchange-traded funds include SPDR Gold Shares (GLD) and IShares Gold Trust (IAU); and closed-end funds include Central Fund of Canada (CEF) and Central Gold Trust (GTU).
If you don't want the expense of owning physical gold, exchange-traded, closed-end and mutual gold funds might be a solution. Gold ETFs trade like other shares of stocks -- you can buy and sell them for a small commission. A gold ETF share typically represents a portion of an ounce of gold. Like ETFs, you can buy and sell gold mutual funds online through an investment broker, but unlike ETFs, these funds are priced at the end of the day only.
Closed-end funds trade like stocks but are structured as trusts --each share represents a portion of the fund's entire gold investment portfolio. However, non-U.S. closed-end funds' proceeds are taxed at the lower, long-term capital gains rate as opposed to the collectibles rate. CEFs are more complicated than mutual funds and ETFs -- and in many cases require different tax treatment.
Gold mutual, ETF and closed-end funds might provide an advantage over owning physical gold. You'll pay a 0.25- to 0.40-percent management fee for owning them but you won't have to store the bullion. In addition, most gold funds are taxed at the collectibles rate.
Invest in Gold Mining Stocks and ETFs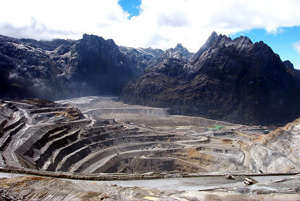 © STR New/Reuters Gold mining stocks and ETFs diversify your gold-related investment -- they invest in the gold mining process and their prices typically move in the same direction as gold prices, according to the Journal of Accountancy. Additionally, gold mine production and financing costs impact these stocks.
Some gold mining stocks include Barrick Gold (ABX) and Goldcorp (GG), and ETFs include Market Vectors Gold Miners (GDX) and Market Vectors Junior Gold Miners (GDXJ). The stocks represent individual mining companies and the funds own multiple companies.
You can buy and sell gold mining investments through your investment brokerage account, and keep in mind that if you hold them for more than a year, they'll be taxed as long-term capital gains, which is more favorable than physical gold's collectibles tax rate.
Consider Gold Exchange-Traded Notes
© Rawpixel.com / Shutterstock.com Gold exchange-traded notes are debt or bond-like securities that offer a rate of return aligned with an underlying gold index. Similar to gold mining stocks and funds, ETNs don't own physical gold.
Gold exchange traded notes include UBS ETRACS CMCI Gold (UBG) and VelocityShares 3x Inverse Gold ETN (DGLD). Each ETN has a distinct investment objective, so make sure you research these funds before you buy.
At maturity, a gold ETN's return is comparable with the gold investment return during the note's time period. A gold exchange-traded note's solvency is linked to the strength of the note's issuer, so if the ETN issuer goes bankrupt, you could lose all or part of your money.
Remember that if you keep a gold ETN, you can benefit from the long-term capital gains tax treatment. These investments are traded on typical investment exchanges and you can buy them through your brokerage account.
Discover Gold Futures Contracts and ETFs
© William Potter / Shutterstock.com If you're not averse to risk, consider buying individual gold futures contracts, which are agreements to buy or sell standard quantities of gold -- and the selling price, place and time are written into the contract. Futures enable you to gain -- or lose -- a large amount of money when there's a small movement in gold prices. Some examples of gold futures contracts include PowerShares DB Gold (DGL) and ProShares Ultra Gold funds (UGL).
These investments are usually traded on the Comex exchange, which is part of Chicago's CME Group. When you buy or sell a gold futures contract, you don't pay the entire amount up front; you pay only a percent or margin of it when you buy and pay the remainder in full at a later date.
Typically, investors purchase gold futures with ETFs or ETNs, and you can buy these funds in your investment account. The tax treatment consists of a 60-percent long-term capital gain and 40-percent short-term capital gain. Investing in futures contracts is best for speculators and risk seekers.
Research is Worth Its Weight in Gold
© Dragon Images / Shutterstock.com If you want to direct some of your cash into the gold market, keep in mind there's no guarantee your investment will appreciate in value. However, you might be prepared for a global meltdown or zombie apocalypse if you hold some gold in your diversified investment portfolio.
If physical gold is too cumbersome and futures are too risky for you, explore gold and gold mining mutual ETFs and ETNs. Choose several funds for consideration, read the prospectuses, understand the risks and buy through your investment brokerage account. Whichever way you want to invest your cash in gold, do your homework and make sure you're well informed about what you're buying -- and about its tax implications.
This article originally appeared on GOBankingRates.com: 5 Ways to Invest in Gold Today