President Donald Trump's net worth as he turns 71

GOBankingRates
6/14/2017
On June 14, President Donald Trump will celebrate his 71st birthday, his first as commander in chief. The oldest person to be sworn into presidency — 70 years, 220 days on January 20, 2017 — Trump beat out a number of contenders to become the Republican nominee for the 2016 presidential election. He defeated Democratic nominee Hillary Clinton in the primary election.
A businessman and former reality television star, Trump's path to wealth was much different than that of your typical politician.
Click ahead for a better understanding as to how Trump built his fortune.
Donald Trump Net Worth: $3.5 Billion
© Evan El-Amin / Shutterstock.com As of June 2017, Forbes estimated Donald Trump's net worth to be $3.5 billion, $1 billion less than it was the previous year. Early in his presidential campaign, Trump said he was worth in excess of $10 billion. He reiterated that claim on May 17 when he submitted an updated financial disclosure to the Federal Election Commission.
Trump ranks No. 544 on the worldwide list of billionaires, falling 208 spots since 2016. Forbes attributed the drop in Trump's net worth to commercial and residential real estate losses in midtown Manhattan.
Trump was born into a wealthy family and inherited about $40 million from his late father, real estate developer Fred Trump, according to Celebrity Net Worth. In 1971, Donald Trump became head of what would later be known as The Trump Organization.
Trump's earnings and title have since helped him develop more than 500 companies. The business mogul has his stake in luxury golf courses, skyscrapers, television shows, casinos, books, merchandise and more.
Related: Donald Trump and 16 Other Rich and Powerful World Leaders
Donald Trump's Businesses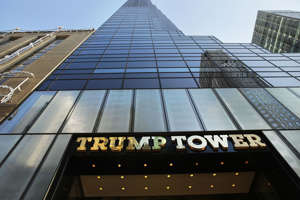 © Spencer Platt/Getty Images The only thing bigger than Trump's personality is his business acumen. In the 1970s, he landed a deal with Hyatt, the city of New York and the unprofitable Commodore Hotel beside the Grand Central Station, earning the right to renovate and rebrand the ailing hotel into the Grand Hyatt. That hotel became an instant success, making Trump one of the best-known real estate developers in the area.
In 1984, Trump completed construction on the 68-story Trump Tower, which serves as headquarters for The Trump Organization to this day. The building includes a 60-foot waterfall and, on opening day, had five levels of retail stores and restaurants.
Trump has owned a slew of successful businesses and properties, among them Trump Place, a housing development project with 5,700 apartments across 18 buildings. The Trump International Hotel & Tower Chicago has a hotel, condos and numerous restaurants and shops. Wollman Rink, a Central Park staple that sees more than 5 million visitors each year, is also owned by Trump.
Donald Trump's Failed Businesses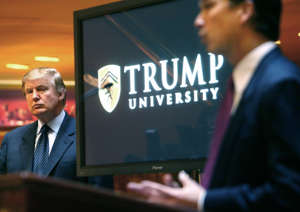 © Bebeto Matthews/AP Photo Donald Trump has major business wins to his name, but he also has some big losses.

In 1988, Trump spent $365 million on a fleet of Boeing 727s, as well as landing facilities in Washington, D.C., New York City and Boston. He also bought the rights to paint his name on a plane. However, his attempt to build a luxury flying experience under the Trump Shuttle name failed, and the company was decommissioned.
In 1990, the banks that backed Trump's investments provided him with a $65 million bailout in new loans and credit, reported Time. That bailout failed, leaving Trump nearly $4 billion in debt nine months later. That same year, his famous Taj Mahal casino in Atlanta City, N.J., filed for bankruptcy.
Trump Hotels & Casino Resorts went bankrupt in 2004. In 2009, the same company — now called Trump Entertainment Resorts — filed for bankruptcy again.
One of Trump's highest-profile business failures is Trump University. The unaccredited online college was launched in 2005 and closed down in 2010. Three Trump University lawsuits plagued his presidential campaign, alleging that Trump University was a scam that cost students tens of thousands of dollars. Trump settled the lawsuits for $25 million, though he did not admit any wrongdoing.
Don't Miss: 7 of Trump's Most Valuable Properties Exposed
Donald Trump's Wife and Family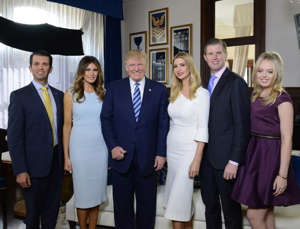 © Fred Watkins/ABC/Getty Images Donald Trump has been married three times. He was with his first wife, Ivana, from 1977 to 1992. The couple had three children together: Donald Jr., Ivanka and Eric. The three eldest Trump children — along with Ivanka's husband, real estate investor and developer Jared Kushner — have been highly involved in their father's presidency.
Trump married Marla Maples in December 1993, two months after Maples gave birth to daughter, Tiffany. The couple divorced in 1999.
Trump has been with his current wife and First Lady Melania Trump, who has an estimated net worth of $50 million,  since 2005. Melania is the mother of Trump's youngest son, Barron.
Donald Trump's Lifestyle
© New York Daily News Archive/Getty Images In addition to his residence in the White House, Donald Trump sometimes lives in a three-floor penthouse in Trump Tower with his wife, Melania, and son Barron — at least, he did so prior to June 11 when the two finally moved to the District. The luxuries the family enjoyed at Trump Tower included an indoor fountain and a door encrusted with diamonds and gold. Nicknamed "White House North," Trump Tower costs millions to secure.
Among Trump's other notable properties is Mar-a-Lago, where he spent 31 out of his first 100 days in office. The luxury club is worth as much as $300 million and sits on 17 acres of valuable South Florida land. Trump bought the estate — which boasts 58 bedrooms, 33 bathrooms, 12 fireplaces and three bomb shelters — for the bargain price of $10 million in 1985.
Before having access to Air Force One, Trump shuttled between campaign stops in his $100 million Boeing 757 adorned with gold seat belts. His fleet of luxury vehicles include a Rolls Royce, an electric blue 1997 Lamborghini Diablo and a Mercedes-Benz SLR McLaren.
Keep Reading: The Richest and Poorest US Presidents
This article originally appeared on GOBankingRates.com: President Donald Trump's Net Worth as He Turns 71