The 5 most educated cities in America (and the 5 least)

By Thomas C. Frohlich
of 24/7 Wall St.
|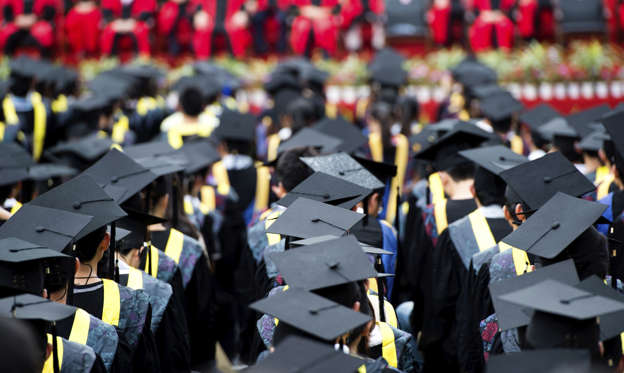 The 5 most educated (and the 5 least) cities in America
The pursuit of higher education is more common in America today than in previous generations. According to the National Center for Education Statistics, roughly 41% of Americans aged 18 to 24 were enrolled in a two- or four-year degree-granting institution, far more than the 25.5% enrolled in 1967.
As of last year, nearly 30% of all American adults 25 and older had attained at least a bachelor's degree. Yet, in some cities, a far higher percentage of residents are college educated. Boulder, Colorado, led the nation last year with 58.5% of adults having attained at least a bachelor's degree, while the Lake Havasu City, Arizona, metro area had the lowest percentage of college-educated adults, at just 11.3%.
According to Pedro Noguera, professor of education at New York University, a combination of related factors affect the likelihood college-educated adults will move to or stay in a particular city. Perhaps not surprisingly, primary among them is the presence of colleges and universities.
At least one major academic institution was located in all of the most-educated U.S. cities. According to Noguera, many graduates choose to remain in their college's city, adding to the numbers of college-educated adults. In addition, since "there are many highly educated people, employers who rely upon a more highly skilled and highly educated pool of employees are drawn to those areas." This can both encourage recent local graduates to remain in the city, as well as encourage other well-educated people to move there.
As one might expect, cities with the highest college attainment rates also tend to have higher median household incomes. Household incomes in most of these cities were in line with the national median of $52,250 in 2013, and in several cases were far higher. The San Jose, California, and Bridgeport, Connecticut, metro areas had particularly wealthy residents, with median household incomes of $91,533 and $82,084, respectively.
Earnings vary dramatically according to a person's level of education. While a typical American adult with less than a high school diploma earned slightly more than $20,000 in 2013, a typical person with a bachelor's degree earned more than $50,000.
In many cities, however, a high-paying job is by no means guaranteed to recent graduates. As Noguera explained, "the relationship between education and income is not linear. While people with more education generally earn higher wages than individuals with less, there are many exceptions to the pattern." For instance, the median income for adults with a bachelor's degree was lower than $40,000 in four of the 10 most-educated cities.
According to a 2013 report from the Milken Institute, five of the 10 most-educated metro areas had among the absolute highest shares of output from the technology sector in the nation. In fact, Corvallis, Oregon, had a greater high-tech GDP concentration than any other small city identified by the Milken Institute.
To identify the most-educated cities in America, 24/7 Wall St. reviewed U.S. metropolitan areas with the highest percentage of adults 25 and older with at least a bachelor's degree in 2013. Educational attainment rates, median earnings by level of education, household median income, population estimates, and poverty data all came from the U.S. Census Bureau's 2013 American Community Survey. Unemployment rates came from the Bureau of Labor Statistics and are annual averages for 2013.
Click ahead for the five most-educated (and the five least) cities in America, then visit 24/7 Wall St. for the complete report.
At 24/7 Wall St.: America's best- and worst-run  states
© baona/Getty Images