The world's largest public companies 2017

Forbes
5/25/2017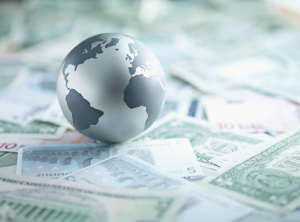 World's Largest Public Companies In 2017 Click through the gallery above to see the world's largest public companies.
Huge public companies still prospered this past year despite wild swings between market uncertainty and volatility, punctuated by unexpected political outcomes.
The 2017 Global 2000 is bigger and more valuable in the aggregate than last year's list, with higher sales, profits, assets and market values. The list as a whole is significantly more valuable from the year prior, with aggregate market capitalization up 10%.
Here's how we crunched the numbers
Despite slowing GDP figures, China and the U.S., whose companies make up more than 40% of the list, continue to dominate the top 10 list with financial giants including No. 1 Industrial and Commercial Bank of China (ICBC) and No. 4 JPMorgan Chase. China's two-year stronghold of the top 3 spots was disrupted this year with Warren Buffett's Berkshire Hathaway snagging the third spot, another signal that U.S. companies didn't suffer terribly from market uncertainty that defined the year, as Berkshire owns many other American staple stocks.
The Forbes Global 2000 ranking is based on a composite score from equally weighted measures of revenue, profits, assets and market value. The 2017 list features public companies from 58 countries that together account for $35.3 trillion in revenue, $2.5 trillion in profit, $169.1 trillion of assets and have a combined market value of $48.8 trillion. All four metrics are up from the 2016 ranking, with market capitalization up 10% from last year.
Despite a slowing of the global IPO market, several newly public companies debuted on this year's list. The biggest newcomer at No. 55 is Postal Savings Bank of China. The September 2016 IPO was the year's largest, worth $8.1 billion. In the U.S., the most high-profile company to enter the list was Snap. The company's $24 billion market cap helped earn a spot at No. 1,693.
U.S. companies account for the most members of the list, 565, followed by China and Hong Kong, which is home to 263 Global 2000 companies. The world's biggest companies have gotten bigger, more profitable and more valuable in the past year. Fifty-eight countries were represented, down from last year's 62 with Cyprus, Kazakhstan, Romania and Malta no longer boasting companies on the list.
It wasn't a good year for energy companies that fought against rock-bottom petroleum prices. Exxon Mobil fell four spots to No. 13, PetroChina fell off the top 10 to No. 102, and Chevron slipped to No. 359 from last year's No. 28 position. 
One big gainer this year is Charter Communications (No. 107), which climbed 677 spots by buying Time Warner,  No. 214 last year,  knocking it off the list. General Electric climbed 54 spots to No. 13 and No. 83 Amazon broke into the top 100 from its previous rank of No. 237. Alibaba also moved up the list to No. 140.
Some major names absent from the list were either acquired by another company or performed poorly and ranked under the No. 2,000 position. Notable drop-offs include SABMiller, which was acquired by No. 126 Anheuser-Busch InBev. Western Digital bought No. 1,266 SanDisk and Marriott acquired Starwood Hotels & Resorts which was No. 1,214 last year.

Chipotle, which suffered a terrible stock price after their food poisoned customers, also fell off the list. Casino giant Caesars Entertainment Corp., No. 1,198 last year, got knocked off too.
See the complete Forbes Global 2000 list here