State Income Tax Rates Explained

GOBankingRates
4/18/2017
Though the federal government income tax applies to all Americans regardless of where you live, your state income tax rates can be vastly different depending on your state's income tax structure. State income tax systems fall into three broad categories: fixed or flat income taxes, progressive income taxes, and no income taxes.
Fixed rates or flat rates, as the name implies, have a single tax bracket regardless of how much you make. Progressive income tax, the most commonly used system, refers to tax rates that increase incrementally for those with more taxable income. Some states, like Alaska and Florida, have high sales tax or property taxes to compensate for the fact that they are among the few states with no income tax.
States With Fixed Income Tax
Under a fixed income tax structure, all income is taxed at the same rate, regardless of your filing status or how much you make. Many states have moved away from flat tax structures because critics claim that they unfairly burden low- and middle-class taxpayers. However, Illinois, which imposes a 3.75 percent fixed tax, has a flat tax because when the tax was first implemented it was unclear whether a progressive income tax was constitutional under the state constitution, and the law hasn't been changed since then.
Fixed Income Tax Rates by State
A total of 10 U.S. states used the fixed income tax system. See if your state is among those with a fixed income tax system, and how the tax rate compares to other states with fixed tax rates.
Don't Miss: Here's How Much Americans Pay in Taxes in Every State
State
Single Filer Rates
Married Jointly Rates
Colorado
4.63%
4.63%
Illinois
3.75%
3.75%
Indiana
3.23%
3.23%
Massachusetts
5.10%
5.10%
Michigan
4.25%
4.25%
New Hampshire
5.00%
5.00%
North Carolina
5.50%
5.50%
Pennsylvania
3.07%
3.07%
Tennessee
5.00%
5.00%
Utah
5.00%
5.00%
Source: Tax Foundation
States With Progressive Income Tax
Although progressive tax structures apply higher tax rates to those who have larger amounts of taxable income, different states' income tax structures have varying degrees of progressivity. For example, Alabama technically has a progressive income tax because the first $499 — $999 if married filing jointly — of income is taxed at 2 percent, income of $500 to $2,999  — $1,000 to $5,999 if married filing jointly — is taxed at 4 percent, and any income over $3,000 or $6,000 if married filing jointly is taxed at 5 percent. However, because the income brackets are so low, almost all income is taxed at the highest tax rate.
On the other end of the spectrum, California has 10 different income brackets each for single filers and joint filers. The tax rates range from 1 percent on the first $8,014 for single filers — $16,029 for joint filers — all the way up to 13.3 percent on income of $1,000,000 and up for single filers or $1,074,996 and up for joint filers.
Progressive Income Tax Rates by State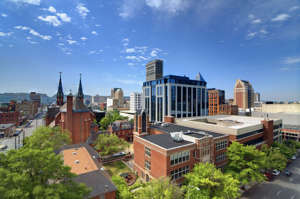 Progressive income tax is the most-used income tax system, and each state handles it a bit differently. The following chart simplifies the states' numerous tax brackets into three, representing the lowest, middle and highest possible brackets. For a more detailed look into your state's income tax rates, check your state's tax website.
State
Single Filer Rates
Married Jointly Rates
Alabama
2.00% = $1-$499
2.00% = $1-$999
4.00% = $500-$2,999
4.00% = $1,000-$5,999
5.00% > $3,000
5.00% > $6,000
Arizona
2.59%-3.36% = $1-$50,889
2.59%-3.36% = $1-$101,778
4.24% = $50,890-$152,667
4.24% = $101,779-$305,335
4.54% > $152,668
4.54% > $305,336
Arkansas
0.90%-3.50% = $1-$21,298
0.90%-3.50% = $1-$21,298
4.50%-6.00% = $21,999-$35,098
4.50%-6.00% = $21,999-$35,098
6.90% > $35,099
6.90% > $35,099
California
1.00%-4.00% = $1-$268,749
1.00%-6.00% = $1-$537,499
8.00%-10.30% = $268,750-$322,498
8.00%-10.30% = $537,500-$644,997
11.30%-13.30% > $322,499
11.30%-13.30% > $644,998
Connecticut
3.00%-5.50% = $1-$249,999
3.00%-5.50% = $1-$499,999
6.00%-6.90% = $250,000-$499,999
6.00%-6.90% = $500,000-$999,999
6.99% > $500,000
6.99% > $1,000,000
Delaware
2.20%-4.80% = $2,000-$19,000
2.20%-4.80% = $2,000-$19,000
5.20%-5.55% = $20,000-$59,999
5.20%-5.55% = $20,000-$59,999
6.60% > $60,000
6.60% >$60,000
District of Columbia
4.00%-6.50% = $1-$59,999
4.00%-6.50% = $1-$59,999
8.50% = $60,000-$349,999
8.50% = $60,000-$349,999
8.75%-8.95% > $350,000
8.75%-8.95% > $350,000
Georgia
1.00%-3.00% = $1-$3,749
1.00%-3.00% = $0-$4,999
4.00%-5.00% = $3,750-$6,999
4.00%-5.00% = $5,000-$9,999
6.00% > $7,000
6.00% > $10,000
Hawaii
1.40%-6.40% = $1-$13,399
1.40%-6.40% = $1-$28,799
7.20%-7.90% = $19,200-$47,999
7.20%-7.90% = $38,400-$95,999
8.25% > $48,000
8.25% > $96,000
Idaho
1.60%-4.10% = $1-$4,361
1.60%-4.10% = $1-$8,723
5.10%-6.10% = $4,362-$7,269
5.1%-6.10% = 8$,724-$14,539
7.10%-7.40% > $7,270
7.10%-7.40% > $14,540
Iowa
0.36%-6.12% = $1-$23,594
0.36%-6.12% = $1-$23,594
6.48%-7.92% = $23,595-$70,784
6.48%-7.92% = $23,595-$70,784
8.98% > $70,785
8.98% > $70,785
Kansas
2.70% = $0-$14,999
2.70% = $0-$29,999
4.60% > $15,000
4.60% > $30,000
Kentucky
2.00%-4.00% = $1-$4,999
2.00%-4.00% = $1-$4,999
5.00% = $5,000-$7,999
5.00% = $5,000-$7,999
5.80%-6% > $8,000
5.80%-6% >$8,000
Louisiana
2.00% = $1-$12,499
2.00% = $1-$24,999
4.00% = $12,500-$49,999
4.00% = $25,000-$99,999
6.00% > $50,000
6.00% > $100,000
Maine
5.80% = $1-$21,049
5.80% = $1-$42,098
6.75% = $21,050-$49,999
6.75% = $42,099-$74,998
7.15%-10.15% > $50,000
7.15%-10.15% > $74,999
Maryland
2.00%-4.75% =  $1-$99,999
2.00%-4.75% = $1-$149,999
5.00%-5.50% = $100,000-$249,999
5.00%-5.50% = $150,000-$299,999
5.75% > $250,000
5.75% > $300,000
Minnesota
5.35% = $1-$25,389
5.35% = $1-$37,109
7.05% = $25,390-$83,399
7.05% = $37,110-$147,449
7.85%-9.85% > $83,400
7.85%-9.85% > $147,450
Mississippi
3.00% = $1-$4,999
3.00% = $1-$4,999
4.00% = $5,000-$9,999
4.00% = $5,000-$9,999
5.00% > $10,000
5.00% > $10,000
Missouri
1.50%-3.00% = $1-$4,031
1.50%-3.00% = $1-$4,031
3.50%-5.00% = $4,032-$8,063
3.50%-5.00% = $4,032-$8,063
5.50%-6.00% > $8,064
5.50%-6.00% > $8,064
Montana
1.00%-3.00% = $1-$7,899
1.00%-3.00% = $1-$7,899
4.00%-6.00% = $7,900-$17,599
4.00%-6.00% = $7,900-$17,599
6.90% > $17,600
6.90% > $17,600
Nebraska
2.46% = $1-3,089
2.46% = $1-6,169
3.51% = $3,090-$18,509
3.51% = $6,170-$37,029
5.01%-6.84% > $18,510
5.01%-6.84% > $37,030
New Jersey
1.40% = $1-$19,999
1.40% = $1-$19,999
1.75%-5.53% = $20,000-$74,999
1.75% = $20,000-$149,999
6.37%-8.97% > $75,000
6.37%-8.97% > $150,000
New Mexico
1.70% = $1-$5,499
1.70% = $1-$7,999
3.20% = $5,500-$10,999
3.20% = $8,000-$15,999
4.70%-4.90% > $11,000
4.70%-4.90% > $16,000
New York
4.00%-6.45% = $1-$80,649
4.00%-6.45% = $1-$161,549
6.65%-6.85% = $80,650-$1,077,549
6.65%-6.85% = $161,550-$2,155,349
8.82% > $1,077,550
8.82% > $2,155,350
North Dakota
1.10% = $1-$37,949
1.10% = $1-$63,399
2.04%-2.27% = $37,950-$191,649
2.04%-2.27% = $63,400-$233,349
2.64%-2.90% > $191,650
2.64%-2.90% > $233,350
Ohio
0.50%-2.48% = $1-$21,099
0.50%-2.48% = $1-$21,099
2.97%-3.96% = $21,100-$105,299
2.97%-3.96% = $21,100-$105,299
4.60%-5.00% > $105,300
4.60%-5.00% > $105,300
Oklahoma
0.50%-1.00% = $1-$2,499
0.50%-1.00% = $1-$4,999
2.00%-4.00% = $2,500-$7,199
2.00%-4.00% = $5,000-$12,199
5.00% > $7,200
5.00% > $12,200
Oregon
5.00% = $1-3,349
5.00% = $1-$6,699
7.00%-9.00% = $3,350-$124,999
7.00%-9.00% = $6700-$249,999
9.90% > $125,000
9.90% > $250,000
Rhode Island
 3.75% = $1-$61,299
 3.75% = $1-$61,299
 4.75% = $61,300-$139,399
 4.75% = $61,300-$139,399
 5.99% > $139,400
 5.99% > $139,400
South Carolina
 0.00%-3.00% = $1-$5,859
 0.00%-3.00% = $1-$5,859
 4.00%-5.00% = $5,860-$1,1719
 4.00%-5.00% = 5$,860-$1,1719
 6.00%-7.00% > $11,720
 6.00%-7.00% > $11,720
Vermont
 3.55% = $1-$37,949
 3.55% = $1-$63,349
 6.80%-7.80% = $37,950-$191,649
 6.80%-7.80% = $63,350-$233,349
 8.80%-8.95% > $191,650
 8.80%-8.95% > $233,350
Virginia
 2.00%-3.00% = $1-$4,999
 2.00%-3.00% = $1-$4,999
 5.00% = $5,000-$16,999
 5.00% = $5,000-$16,999
 5.75% > $17,000
 5.75% > $17,000
West Virginia
 3.00%-4.00% = $1-$24,999
 3.00%-4.00% = $1-$24,999
 4.50%-6.00% = $25,000-$59,999
 4.50%-6.00% = $25,000-$59,999
 6.50% > $60,000
 6.50% > $60,000
Wisconsin
 4.00%-5.84% = $1-$22,469
 4.00%-5.84% = $1-$29,959
 6.27% = $22,470-$247,349
 6.27% = $29,960-$329,809
 7.65% > $247,350
 7.65% > $329,810
Source: Tax Foundation