Carrie Fisher and Debbie Reynolds' public memorial to feature James Blunt song, Gary the Dog

New York Daily News
3/15/2017
© The Associated Press FILE - In this Tuesday, Aug. 19, 2003 file photo, Debbie Reynolds and Carrie Fisher arrive at the "Runway for Life" Celebrity Fashion Show Benefitting St. Jude's Children's Research Hospital and celebrating the DVD relese of Chicago in Beverly Hills, Calif. On Tuesday, Dec. 27, 2016, a publicist said Fisher has died at the age of 60. (AP Photo/Jill Connelly, File) Mother and daughter Hollywood duo Carrie Fisher and Debbie Reynolds continue to be remembered.
A long-awaited public memorial for the two stars will be held on March 25 at Forest Lawn Memorial Park where the mother-daughter duo is buried, TMZ reports.
The send-off will feature a special song by James Blunt played over a photo montage of the pair - however, the singer will not be in attendance, Todd Fisher told TMZ.
Blunt had a close relationship with Fisher - she was even the godmother to his child with wife Sofia Wellesley.
Also as part of the tribute, Fisher's beloved pet Gary the Dog will be present for the memorial, according to the gossip site. Fisher's daughter Billie Lourd will also be in attendance, but will not address the crowd because it's too emotional, according to the gossip site.
© Rex Carrie Fisher and Gary Fisher
Those who cannot make it to Beverly Hills can stream the event on either Fisher or Reynolds's websites.
A private ceremony was held to remember the stars in early January.
The "Star Wars" icon died on Dec. 27 after going into a cardiac arrest on an airplane.
Her mother suffered a stroke just one day later while planning her daughter's funeral arrangements.
Carrie Fisher and Debbie Reynolds: Their bond in photos --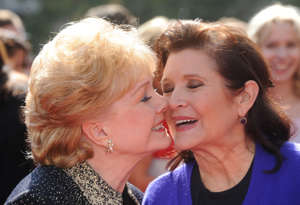 Heartwarming images of Debbie Reynolds with daughter Carrie Fisher