Exes Jennifer Aniston and Brad Pitt 'Have a Very Civil Relationship' Says Source

People
2/12/2019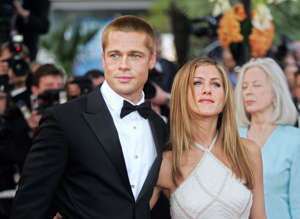 © 2004 AFP Brad Pitt and Jennifer Aniston in 2004 Jennifer Aniston spent her 50th birthday party surrounded by lots of famous friends — and her ex-husband, Brad Pitt.
"Brad and Jen have a very civil relationship," a source tells PEOPLE in this week's issue. "He would not have been asked to come if that weren't the case. It was a big night for Jen."
Aniston spent Saturday night at the Sunset Tower Hotel in Los Angeles to ring in the milestone year. Pals like George and Amal Clooney, Ellen DeGeneres, Laura Dern, Robert Downey Jr., Kate Hudson, Demi Moore, Gwyneth Paltrow, Keith Richards, Barbara Streisand and Reese Witherspoon were all in attendance to help Aniston celebrate.
Her Friends costars Courteney Cox and Lisa Kudrow were also among the partygoers, as were Aniston's ex-boyfriend John Mayer, his ex Katy Perry and the pop star's current boyfriend, Orlando Bloom.
"The important people in her life gathered to celebrate with her," the insider says. "Brad fits into that group, and it was natural that he would want to come."
Though the pair — who announced their split in January 2005 following four years of marriage — embraced at Aniston's birthday bash, the actress "didn't really pay any special attention to Brad," another source adds. "They hugged and chatted for a bit, but Jen was busy making sure all of her other guests had an amazing time."
Aniston also received some birthday love from another ex-husband: Justin Theroux. The Leftovers actor, 47, posted a picture of Aniston on Instagram on Monday, with the caption, "Happy Birthday to this fierce Woman. Fiercely loving. Fiercely kind. ….and fiercely funny."
A post shared by @ justintheroux on Feb 11, 2019 at 1:17pm PST
Theroux and Aniston split in early 2018, while Pitt, 55, and his most recent ex-wife Angelina Jolie divorced in 2016.