How Ben Affleck and Jennifer Garner Are Moving Forward After Divorce Being Finalized (Exclusive)

ETOnline
11/8/2018
What's next for Ben Affleck and Jennifer Garner now that their long-gestating divorce has officially drawn to a close?
It's a complicated question needing a complicated answer but, according to our source, one thing is very simple between them — their commitment to their three kids. The former couple will share legal custody of son Sam, 6, and daughters Violet, 12 and Seraphina, 9.
"Ben and Jen have been dedicated to making sure their divorce doesn't affect their kids," the source says. "They want to keep the communication healthy so that they can make decisions together in the best interest of their children. It's been wonderful for Jen that Ben has been so present and involved. She wants to do this right and everyone is so incredibly proud of her for rising above the past and putting the kids first."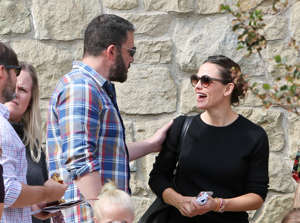 © 2018 Bauer-Griffin Ben Affleck and Jennifer Garner are seen on November 04, 2018 in Los Angeles, California. (Photo by BG004/Bauer-Griffin/GC Images) The couple's divorce, which was made official on Wednesday, ends a years-long period of speculation among fans after the pair announced their separation in 2015. Ultimately, they filed for divorce in April of 2017.
Between then and now, the 46-year-old actor has relapsed and entered rehab to cope with his alcoholism. Yet his now-former-spouse has always been a source of strength, even driving him to the rehab facility in August.
"Ben has been very open with Jen about his long-term plans to stay sober and all of his counselors and sponsors are encouraging him to keep her involved," the source shares. "It really helps him to spend time with his family because his kids are a major motivation for him to stay sober. They are taking it one day at a time and that's been working. Their family life gets better every day."
Also during this period, Affleck struck up a romance with 22-year-old Playboy model Shauna Sexton. However, in October, ET learned that the pair broke up and that it was the actor's decision. There was speculation that their relationship was not conducive to his new sober lifestyle.
"It was casual and not serious," a source said at the time. "Ben's only priority right now is his sobriety and his family."
As for Garner, it was recently revealed that there is a new man in her life — businessman John Miller. He's the chairman and CEO of Cali Group, a holding company that works to innovate technology in both the restaurant and retail industries. The pair has already gone on a number of dates, careful to stay out of the public eye.
"Jen couldn't be in a better place. She somehow manages to do it all, family, career and now a blossoming relationship," our source relays. "She has withstood a painful divorce and still stands by the father of her children. Finally, Ben is dedicated to getting the help he needs and she couldn't be happier."
"It's the first real relationship she's had since her marriage and she's worked hard to keep it private," the source adds. "Things are still casual and they haven't officially announced that they are a couple, but the romance has definitely been ongoing for several months. Ben is actually very supportive of Jen's relationship."
Our insider notes that, although the actress' top priority is supporting her ex and caring for her kids, her inner circle is also encouraging her to embrace romance again.
"Her friends have wanted this for her for a very long time, but she wasn't ready," the source says. "Jen is happy and her main focus is the kids and making sure Ben stays on the straight and arrow and bonds with the kids."
Get more news on the former couple down below.