Inside Tom Cruise and John Travolta's Alleged Scientology Feud

The Daily Beast
4/16/2018
© Margaret Norton/NBC/NBCU Photo Bank via Getty Images John Travolta and Tom Cruise in 1997 A former Scientologist who acted as Tom Cruise's personal security guard has given an intriguing account of the long-rumored rift between Cruise and the religion's other most high profile member, John Travolta, as they competed for the favor of Scientology chief David Miscavige.
The church has responded to the allegations by accusing former church member, Brendan Tighe, of making 'unsubstantiated claims' and being 'an apostate who has a personal axe to grind.'
Tighe is the subject of an interview with Australian magazine New Idea, in which he says, "Cruise is the only celeb with a direct line to Miscavige. Travolta didn't have that. Travolta doesn't get anything free, no one is giving him absurd gifts like an airplane hangar, custom-made bikes, or over-the-top favors."
In 2008, when Cruise was awarded the Freedom Medal of Valor—given to Scientology's most dedicated member—at a special gala in the U.K., Tighe told New Idea that Travolta, 64, 'exploded with jealousy,' feeling that he had been 'stripped' of his position of the Church's most important member.
Before Cruise arrived on the scene, Travolta felt that he was the 'favorite son' of David, adding, "It's no secret that Cruise and Travolta despised each other."
Tighe, who claims to have signed one of Scientology's notorious billion-year contracts at the age of 12, told New Idea: "It's no secret that Cruise and Travolta despised each other. I can assure you Travolta doesn't recognize Cruise as a superior in any way. When Cruise got that medal Travolta was so p*ssed off."
Tighe, 37, who quit the church in 2011, was born into the religion along with a younger sister Natalie. His mother is still a high-ranking Scientology staff member, the Daily Mail reports.
In a further interview with the Daily Mail, Tighe doubled down on the claims, adding: "I was a top priority with the dentist, I always had to have my teeth whitened and regular check ups. You had to have a good smile for Tom Cruise."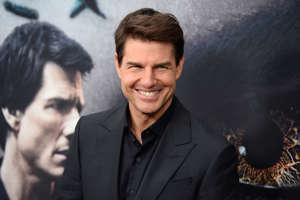 © 2017 Andrew Toth Tom Cruise attends 'The Mummy' New York fan event at AMC Loews Lincoln Square on June 6, 2017 in New York City. (Photo by Andrew Toth/FilmMagic) Tighe also addresses the rumors that the Church 'interviewed' potential new girlfriends for Cruise after he split with Nicole Kidman.
Candidates "had to be at the same point on the tone scale, which means at the same level of understanding. So they were looking at Hollywood stars... Who didn't have a porn past? Who hadn't done nude scenes in movies? Who hadn't a major drug history?
"So many prospects had done something wrong, like sex movies that had been leaked; it was impossible to find someone qualified."
A 2012 Vanity Fair article previously claimed that Miscavige made it his mission in 2004 to find Cruise a new girlfriend, saying: "The organization devised an elaborate auditioning process in which actresses who were already Scientology members were called in, told they were auditioning for a new training film, and then asked a series of curious questions including: 'What do you think of Tom Cruise?'"
Related slideshow: Celebrity Scientologists (via Photo Services)