Miles Teller Arrested For Public Intoxication

Gossip Cop
6/19/2017
Miles Teller was arrested on Sunday for public intoxication. The incident took place in San Diego, where the actor was confronted by a police officer, Gossip Cop confirms.
Teller was out late Saturday night and into Sunday morning with a group of friends when a cop witnessed him unable to maintain his balance on a sidewalk shortly before 12:30 a.m. local time. A spokesperson for the San Diego Police Department tells Gossip Cop, "He was showing signs of being under the influence, swaying side to side, slurring of speech and bloodshot eyes." When pulled aside for an evaluation, Teller was allegedly uncooperative, and was so drunk he "almost fell into the street," as he was "unable to stand" on his own, we're told.
The officer placed the star in custody, and, out of concern for his safety, took him to a local detox center, where drunk people have the opportunity to sleep it off without facing arrest. But Teller allegedly refused to cooperate with the staff upon arriving at the facility and would not "follow directions," leading to his formal arrest. He was booked into San Diego Central Jail on a charge of being "drunk in public," which is a misdemeanor. After several hours behind bars to sober up, the star was released without bail.
Gossip Cop reached out to a rep for comment, but did not immediately hear back. The arrest comes nearly six months after Teller was in a car accident when his truck was hit by an Uber driver in the San Fernando Valley. As Gossip Cop reported in December, Teller's truck flipped over upon impact. Miraculously, he and his girlfriend escaped unharmed, though he was reportedly enraged over the accident.
Police determined he was not at fault, and no drugs or alcohol played a role in the mishap, which was apparently caused by the Uber driver making an unsafe left turn. He later tweeted, "The other driver pulled into oncoming traffic and bad accident was unavoidable. This woman's irrational and ignorant decision put our lives and her passengers in very real danger. Happy we could walk away."
Related slideshow: Celebrity mugshots (via Photo Services)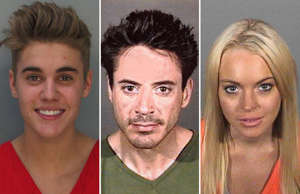 Celebrity mugshots