'Full Metal Jacket' Star R. Lee Ermey Buried with Honors at Arlington National Cemetery

The Blast
1/18/2019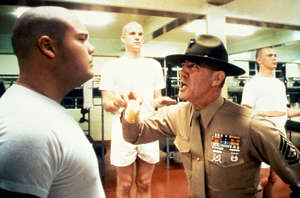 Actors Vincent d'Onofrio, Matthew Modine and R.Lee Ermey on the set of 'Full Metal Jacket'. (Photo by Sunset Boulevard/Corbis via Getty Images) R. Lee Ermey was laid to rest Friday with military honors in a ceremony that included a gun salute and presentation of the American flag.
The accomplished actor and veteran was buried at Arlington National Cemetery. The service included a firing party, folding and presentation of the American flag, and a bugle player.
The "Full Metal Jacket" star, who died last April of complications from pneumonia, was cremated and his remains buried at the famous cemetery.
© The Associated Press FILE - In this May 15, 2006, file photo, retired Marine Gunnery Sgt. R. Lee Ermey takes a break for a smoke outside New River Air Station's Staff NCO club in Jacksonville, N.C. Ermey, a former marine who made a career in Hollywood playing hard-nosed military men like Gunnery Sgt. Hartman in Stanley Kubrick's "Full Metal Jacket," has died. His longtime manager Bill Rogin says he died Sunday morning, April 15, 2018, from pneumonia-related complications. He was 74. Ermey served more than 11 years in the Marines, including a tour in Vietnam before he was medically discharged as a staff sergeant.
R.I.P., Gunny.
Related slideshow: Stars we've lost in 2019 (via Photo Services)