'Straight Outta Compton' Suge Knight Actor Arrested for Assault

TheWrap
5/15/2017
"Straight Outta Compton" star Richard Marcus Taylor, who played Suge Knight in the hip-hop biopic, has been arrested for assault.
According to the Miami Herald, Taylor beat up a security guard at a Sunny Isles Beach resort.
The 40-year-old actor was charged with misdemeanor battery and is being held at a Miami-Dade jail.
The Miami-Dade Police Department said the incident occurred when the security guard asked Taylor to take his feet off a table in the lobby. Taylor told the guard to "leave him alone," according to the police report, and the guard told the front desk to call 9-1-1.
After a break of five minutes, the Suge Knight actor then walked over to the guard and pushed him in the chest, according to surveillance video. The two had to be physically separated once officers arrived on the scene.
Taylor had a small but significant role in director F. Gary Gray's 2015 hit film about rappers N.W.A., playing the notorious co-founder and former CEO of Death Row Records who was charged with murder and attempted murder following a hit and run in Compton, California. His pending murder trial was recently delayed due to illness on Knight's behalf.
On his IMDB page, Taylor is described as a martial arts expert, certified personal trainer, gym owner, professional fighter, bodyguard and stuntman. His nickname is listed as Kick You in the Head.
The New Jersey native has also had roles on Netflix's "Luke Cage," "Gotham," "Baby Driver" and "Sons of Anarchy." 
Related slideshow: Celebrity mugshots (via Photo Services):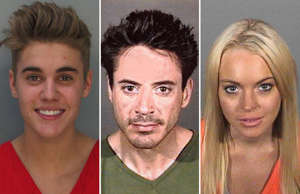 Celebrity mugshots