Mark Hamill Cautions Fans About Luke Skywalker Lightsaber up for Auction

The Hollywood Reporter
12/4/2018
Mark Hamill is looking out for Star Wars fans — again. 
On Tuesday morning the actor sent out a warning along with a story about an upcoming auction in which a Luke Skywalker prop is to be to sold. 
Major Hollywood auction house Profiles in History is offering a lightsaber used by Hamill in the first Star Wars film, 1977's A New Hope. 
It could fetch upwards of $150,000, according to Fortune. Another item up for bid is an original T.I.E. Fighter helmet.
Hamill said that while the lightsaber prop may be legit, it is not as rare as it may seem.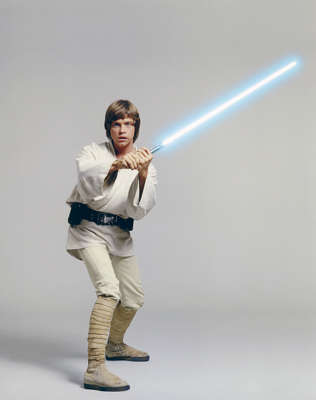 Mark Hamill on the set of Star Wars: Episode IV - A New Hope written, directed and produced by Georges Lucas. (Photo by Sunset Boulevard/Corbis via Getty Images) "Be Advised-There was no ONE lightsaber I used in the films, but many, MANY, both for myself & my stunt-double. Multiple duplicate back-up props are commonplace during production-When the handle ridges were cutting my hands, they even made a few w/ soft sponge ridges! #BuyerBeware," Hamill tweeted to his nearly 3 million followers. 
This is hardly the first time Hamill has looked out for his fans. The actor has been an outspoken crusader in the fight over fake autographs.
In fact, Hamill's efforts helped get a law on the books in California that any autographed item worth at least $5 must be accompanied by a certificate of authenticity, which must include the name and address of the dealer, date and purchase price and any third-party ownership. There was some pushback from dealers over the new law. 
The Profiles in History Hollywood auction takes place Dec.11-13.
Hamill is currently filming Episode IX. J.J, Abrams is back in the director's chair for the installment, due out Dec. 20, 2019.
Related video: Luke Skywalker Wants To Save You From Buying Fake Autographs (via Newsy)