Ariana Grande breaks silence on ex Mac Miller's death

Wonderwall
9/14/2018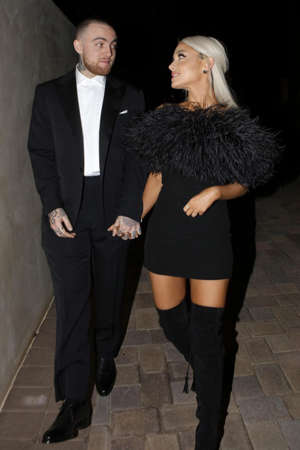 © 2018 GC Images Mac Miller and Ariana Grande are seen attending an Oscar party on March 4, 2018 in Los Angeles, California. (Photo by GC Images) Ariana Grande has broken her silence about the death of her ex-boyfriend Mac Miller, and she's still very emotional about the loss.
The singer took to Instagram Sept. 14 to share a video of Mac trying to tell a story.
"I adored you from the day I met you when I was nineteen and i always will. I can't believe you aren't here anymore," she said. "I really can't wrap my head around it. We talked about this. So many times. I'm so mad, I'm so sad I don't know what to do."
She continued, "You were my dearest friend. For so long. Above anything else. I'm so sorry I couldn't fix or take your pain away. I really wanted to. The kindest, sweetest soul with demons he never deserved. I hope you're okay now. Rest."
The clip Ariana posted is from when she and Mac were dating.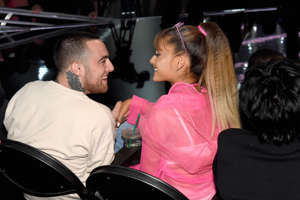 © 2016 Kevin Mazur Mac Miller and Ariana Grande share a moment in the audience during the 2016 MTV Video Music Awards at Madison Square Garden on August 28, 2016 in New York City. (Photo by Kevin Mazur/WireImage) Ariana seemed to be a bright light in Mac's life. After Mac's death on Sept. 7 of an apparent overdose, a friend of a rapper's said Ariana was "incredible" at trying to get Mac sober.
"There could not have been anybody more supportive of him being sober than Ariana. I saw that, I was around it. I took phone calls from her. 'How do I help? What do I do?' This little girl was unbelievably involved and helpful to him being healthy," Shane Powers, Mac's close friend, said. "Because whether he's an addict or not, the way that Mac partied was not healthy, but I gotta tell you, man, there was no one in his life more ready to go to the wall for him when it came to him being sober, and she was an unbelievably stabilizing force in his life."
© David X Prutting/BFA/REX/Shutterstock Mandatory Credit: Photo by David X Prutting/BFA/REX/Shutterstock (6014793m) Mac Miller, Ariana Grande Fool's Gold Day Off, Los Angeles, USA - 25 Sep 2016 "She was deeply helpful and effective in keeping Mac sober and helping him get sober," Shane said, "and she was all about him being healthy, period, in this area of his life."
On Sept. 8, Ariana, who dated Mac for two years, posted a photo of her former beau to her Instagram, but didn't attach a caption. She's now engaged to comedian Pete Davidson.
Related slideshow: Celebrities react to the death of Mac Miller