Erroneous reports about Tom Petty's death cause confusion

Associated Press
10/3/2017
(Video provided by ETOnline.com)
LOS ANGELES — For several hours Monday, music lovers believed Tom Petty was dead.
Courtney Love, Talib Kweli, Kid Rock, Cyndi Lauper, Paul Stanley and Lin-Manuel Miranda were among scores of fans posting remembrances on Twitter, where Petty was the top worldwide trending topic Monday afternoon. A memorial was scheduled for his star on the Hollywood Walk of Fame.
But the 66-year-old entertainer is still alive, and news outlets that announced his death Monday retracted their stories later Monday. The Walk of Fame tribute was canceled.
The confusion started with CBS News and the Los Angeles Police Department. CBS published Petty's obituary after tweeting that the LAPD had confirmed his death. The trade paper Variety followed, citing an unnamed source confirming the rocker's death.
© The Associated Press ARCHIVO – Tom Petty de Tom Petty and the Heartbreakers en KAABOO 2017 en San Diego, California en una fotografía de archivo del 17 de septiembre de 2017. Un vocero del Departamento de Policía de Los Angeles dijo que no tiene información sobre el estado de salud de Tom Petty y que los otros voceros de la policía no proporcionaron la información que CBS News usó para reportar que el rockero había fallecido el 2 de octubre de 2017. (Foto Amy Harris/Invision/AP, archivo)
Then the LAPD issued a statement saying it has no information on Petty's condition and that "initial information was inadvertently provided to some media sources."
"We apologize for any inconvenience in this reporting," the department said.
CBS and Variety amended their stories. CBS News also released a statement maintaining that it "reported information obtained officially from the LAPD about Tom Petty."
"The LAPD later said it was not in a position to confirm information about the singer," the statement said.
Both CBS and Variety now cite TMZ reporting that says Petty is "clinging to life" after suffering cardiac arrest.
An LAPD spokesman said in an interview Monday that its spokespeople did not respond to any incident involving Petty. Officer Tony Im said he could not rule out that someone in the department spoke to reporters, but said the LAPD has no investigative role in the matter.
Coroner's officials said Monday they have not received a report of Petty's death. Fire officials have said they responded to an emergency call for a man experiencing cardiac arrest on the block where Petty lives in Malibu on Sunday night, but could not confirm it was the rocker who was taken to a local hospital.
Petty's manager did not respond to emails and phone calls seeking comment Monday. 
Related slideshow: Tom Petty's career in pictures (via Photo Services)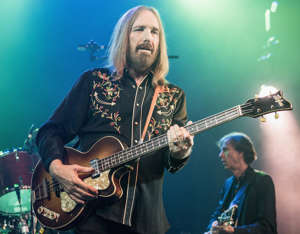 Tom Petty: Life and career in pictures