Justin Bieber faked being sick to avoid deposition: report

New York Daily News
2/17/2017
Justin Bieber is in hot water for faking an illness just hours before he was scheduled to meet with lawyers representing a songwriter who claims Bieber stole a portion of song from them for "Sorry," TMZ reported.
The lawyers in the case claim Bieber's team informed them the day of the Feb. 8 deposition that he was "ill" and could not attend, but then the legal team discovered YouTube videos where the singer is chugging beers and partying.
The videos, which were posted by members of the Biebs' fan club, show the pop star drinking at a friend's house, as well as David Arquette's nightclub Bootsy Bellows.
Lawyers flew from Nashville to Los Angeles to make things easier for Bieber, but after he rubbed it in their faces that he bailed on the deposition, they are now requesting he fly to Tennessee to continue the case.
This isn't the first time Bieber has found himself in trouble with the law.
On Tuesday, a Las Vegas resident filed a police report against Bieber for allegedly punching him multiple times and leaving him with a head injury.
And on Thursday, a report came out that the Grammy-winner reportedly head-butted someone at a pre-Grammys party last weekend.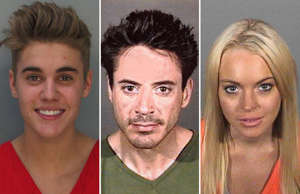 Celebrity mugshots