Rory Feek Says He's Still 'In Love' with Late Wife Joey More Than 2 Years After Her Death

People
6/18/2018
© Frazer Harrison/ACMA2013/Getty Although it's been more than two years since Joey Feek lost her brave battle with cervical cancer at age 40, the late singer's husband Rory still feels their bond.
"I feel just as married and just as in love," he said in an interview with CBS Sunday Morning. "I feel like she's just as much a part of our life as she was."
The 53-year-old, whose new book Once Upon a Farm: Lessons in Growing Love, Life and Hope on a New Frontierhits stands Tuesday, opened up about returning to the stage without his longtime Joey + Rory partner, calling the experience "surreal and strange, a little wrong in some ways. But on the other side of it, it felt strangely familiar."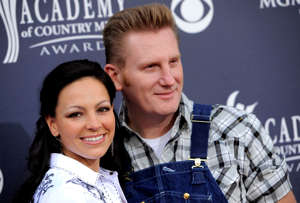 © Chris Pizzello/AP Photo In this April 3, 2011, file photo, Joey Martin Feek, left, and husband Rory Lee Feek, of "Joey + Rory," arrive at the Annual Academy of Country Music Awards in Las Vegas, Nev. Feek also spoke about the challenges of adjusting to life as a single father. Not long after Joey's death in March 2016, he could tell that his older daughter Hopie had something important she wanted to say to him.
"I said, 'Just tell me, Hopie,' " Feek recalled. "And she went on to tell me that her friend Wendy was more than her friend, that Wendy and [she] had been dating for almost a year. And that she was in love." (The couple are now engaged and will wed on the farm where Joey is laid to rest this fall.)
Before meeting his late wife, Feek had two daughters, Hopie and Heidi, from a previous relationship. Together, the pair had 4-year-old daughter Indiana, who was born with Down syndrome.
© CBS Rory Feek

After telling her father about her relationship, Hopie was afraid that he would judge her, and wondered whether he would still love her.

"And my first reaction, honestly, was I don't know," Feek remarked. "Because my conservative Christian faith that saved me — the first reaction is that challenges that immensely."
Continuing, he asked himself, "Am I supposed to shun my child now and say, 'No, you can't be in my life until you come around to thinking like I'm thinking?' "
During the interview, Hopie mentioned she could see the "panic" register on her father's face, but understood where he was coming from.
While he did initially struggle with accepting his daughter's sexuality, Feek came to understand his only job is "to love her."
"The only thing I try to keep in mind is it's her life, it's her choice, it's her faith," he explained. "And my job is to love her even when it's hard."
Speaking with PEOPLE in August 2016 — six months after her step-mother's death in March of that year — Hopie reflected on the impact Joey had on her life. "She was the first woman I could actually look up to," Hopie shared.
...having a big time w her big sister Hopie.

A post shared by Rory Feek (@roryfeek) on Jan 21, 2018 at 7:37am PST
Feek also previously opened up to PEOPLE about how he'd "like to think that Joey is proud" of how he's doing as a single father.
"I'd like to think that Joey is proud of how I'm doing – how we're all doing, especially Indiana," Feek remarked "She took so much pride in the work of being a mama to Indy, and I find myself thinking of her every day, all day long in the time that Indy and I spend together and the things we do, wondering how she would handle this, or do that."
...a birthday kiss for our little Indiana who turns 4 years old today. #shehashermamassmile #birthdayatthebeach??

A post shared by Rory Feek (@roryfeek) on Feb 17, 2018 at 3:02pm PST
"I remember how present Joey was and am trying to be that way too," he added.
Related slideshow: Joey Feek: Her Life in Pictures (via EW.com)