Singer Stuns in Barbed Wire "Build The Wall" Gown on Grammys Red Carpet

The Hollywood Reporter
2/10/2019
Singer Joy Villa, who made headlines for her pro-Trump and pro-life gowns at the past two Grammy Awards, continued to make a right-leaning political statement with her Grammys 2019 ensemble.
The musician showed up on the red carpet for the music awards show sporting a "build the wall" gown designed by Designers Allinger of Desi Designs, Villa told The Hollywood Reporter, complete with barbed wire on her shoulders, a spiky headpiece and cloak designed to look like steel.
© Provided by Prometheus Global Media Last year Villa wore a provocative pro-life ensemble featuring a graphic image of a fetus.
 Villa paired last year's gown with an oversize tiara, was emblazoned with a red fetus encircled by rainbow hues that Villa hand-painted herself. Her handbag was inscribed with the words, "Choose Life."
Grammys 2019: Winners and Highlights (via Photo Services)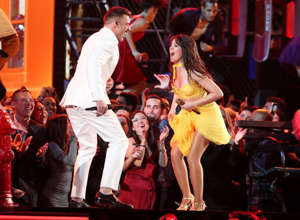 According to her tweet, Villa's gown was purchased from Bridal Garden, a nonprofit bridal shop that donates proceeds to underprivileged children in Brooklyn's Bedford-Stuyvesant neighborhood.
"I'm a pro-life woman," she told Fox News. "This year I chose to make a statement on the red carpet like I always do."
© Provided by Prometheus Global Media Villa also courted controversy in 2017 when she stepped out in a dress featuring President Trump's campaign slogan, "Make America Great Again," with "Trump" stamped on the train. The gown was designed by Filipino immigrant Andre Soriano.
As for how she feels about the president's first year in office, she said, "I love what he is doing; unemployment is down ... I am totally for President Trump, and it's only been one year. I can't wait for the next seven years!"
Villa wasn't the only artist to make a pro-Trump statement on the Grammys red carpet. Musician Ricky Rebel was spotted shortly after the carpet opened wearing a red-white-and-blue reversible jacket emblazoned with "Keep America Great!"
The other side of the jacket was lavender with silver mirrors.
Trump supporter and recording artist @RickyRebelRocks shows off a reversible Trump "keep America great" jacket. Remember @Joy_Villa's #GRAMMYs Trump dress? Same designer. pic.twitter.com/jFEQ4zU1Sb

— Carly Mallenbaum (@ThatGirlCarly) February 10, 2019