50 Deep Tracks That Will Blow Your Kids' Minds

Purple Clover
6/22/2015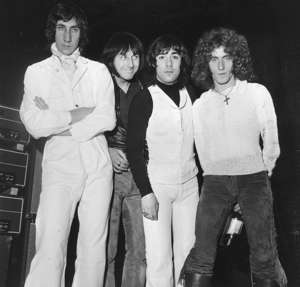 Sure, you've been playing "Like a Rolling Stone," "Satisfaction" and any number of Beatles songs in your house since the kids were in diapers, but now that they're almost grown-ups, we think it's time to share some other great yet maybe not as obvious songs that most of us know and love. The following 50 deep tracks are some of our all-time favorites. (Listen to the entire playlist here.) And we'd love to hear what yours are (or if we're out of our minds for our picks) in the comments below.
50. The Who: "Call Me Lightning"
Album: Released as a single only
Year: 1968
Just months before they would forever change the face of rock with the game-changing concept album, "Tommy," the Who — then still largely a singles pop band — released this little chestnut that remained so cool that nearly 50 years later, it inspired three kids from Milwaukee to name their indie rock band after it.
49. Eric Clapton: "Why Does Love Got to Be So Sad?"
Album: "Layla and Other Assorted Love Songs"
Year: 1970
For all the critical praise Clapton's vanity project, Derek and the Dominos, has received over the years, this amazing little tag-team guitar duel between Clapton and his brother-in-licks, Duane Allman, has somehow managed to escape the lion's share of that praise.
48. Animals: "Don't Bring Me Down"
Album: "Animalization"
Year: 1966
While in New York for the band's first tour of America, legendary producer Mickey Most made a single call to the Brill Building for new material; what he received were three songs, all of which were recorded in the same session — "We Gotta Get Out of This Place," "It's My Life," and the least remembered of the three, this ultra-cool and slightly bluesy Carole King/Gerry Goffin gem.
Listen here.
47. Steely Dan: "Rose Darling"
Album: "Katy Lied"
Year: 1976
Becker and Fagen apparently hated the album at first, mostly because some faulty recording equipment made it sound muddy — at least to the two of them; but to many Dan-ophiles, "Katy Lied" remains the notorious perfectionists' crowning studio achievement, thanks in no small part to the number of stunning, under-appreciated minor classics it contains (not the least of which is this one).
46. Moody Blues: "Are You Sitting Comfortably?"
Album: "On the Threshold of a Dream"
Year: 1969
We can say two things with certainty: Despite the passage of time, the Moody Blues have somehow managed to remain critical pariahs; and with tunes like "Knights in White Satin," "Tuesday Afternoon," "The Story in Your Eyes" and this ethereal, almost otherworldly ballad under his belt, Justin Hayward remains one of the least known great songwriters in the history of rock.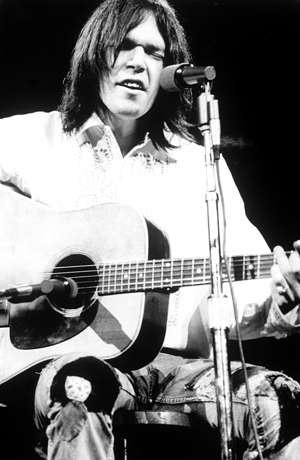 © REX/Peter Sanders Neil Young, 06/15/1970 45. Neil Young: "Tell Me Why"
Album: "After the Gold Rush"
Year: 1970
There have really always been two Neil Youngs: the grunge patriarch who can rock as long, as hard and with as much rage, spit and fire as any flannel-shirted old man the world has ever known; and the still-wistful, still-hopeful young kid from Ontario, whose lyrics and haunting sense of melody are capable at a moment's notice of ripping your heart out and leaving you drowning in a sea of your own tears.
44. Alice Cooper: "Under My Wheels"
Album: "Killer"
Year: 1971
It's easy to forget that beyond the showmanship and theatrics, Alice Cooper was at one time less a real person than a kick-ass guitar band; in fact, Cooper's longtime lead guitarist Glen Buxton was once named the 90th greatest guitar player ever by Rolling Stone. Honesty compels us to report that his one-time bandmate, studio great Steve Hunter, might have even been better than Buxton.
43. Jefferson Airplane: "Today"
Album: "Surrealistic Pillow"
Year: 1967
This beautiful to the point of shimmering Marty Balin ballad was originally composed for — get this — good friend and fellow San Franciscan, Tony Bennett.
42. Jimi Hendrix: "Angel"
Album: "The Cry of Love"
Year: 1971
Speaking of ballads, while "Little Wing" gets all the props and cover treatments, this Hendrix ballad (which he claimed he wrote after having a dream about his mother being carried off to heaven) happens to be our personal favorite.
41. R.E.M.: "Star Me Kitten"
Album: "Automatic for the People"
Year: 1992
Call us a sucker for this song's echoing vocal effect (first utilized by 10cc in "I'm Not in Love"), but that, coupled with its lilting vibe — even as it distills the singer's failed relationship down to a few everyday items, and even as that singer steadfastly continues to refer to his ex-lover by her pet name — makes this intoxicating, ironic and overlooked gem another personal favorite.
40. Billy Joel: "Rosalinda's Eyes"
Album: "52nd Street"
Year: 1978
Truth be told, while so much of the Billy Joel canon should just go away and spare us discriminating listeners from further sanctimony, half-baked social commentary and musical histrionics, we've found over the years we never tire of hearing this beautiful (and, thanks to Phil Ramone, beautifully produced) little Latin-flavored paean to a New York girl, by way of Cuba.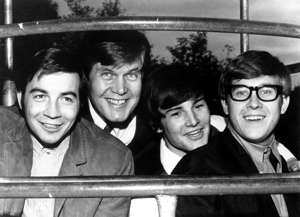 39. The Guess Who: "Shaking All Over"
Album: "Shaking All Over"
Year: 1965
Long before the band's direction got commandeered by Randy Bachman and, particularly, Burton Cummings, and long before they started releasing an endless stream of overwrought sentiment disguised as rock, the Guess Who were just five kids from Winnipeg calling themselves "Chad Allen and the Reflections," kids whose garage sound was as so real and so authentic it now hurts to think how it all played out for them.
38. James Gang: "Funk 48"
Album: "Yer' Album"
Year: 1969
Not Funk 49, Funk 48. Still Joe Walsh. Still overflowing with attitude. And still laced with all that unmistakable Rust Belt raunch. But funkier, cooler, and with one less calorie to boot.
37. Beach Boys: "Sail On, Sailor"
Album: "Holland"
Year: 1973
A criminally overlooked minor masterpiece from the Beach Boys catalog with songwriting credits that include not only Brian Wilson and Van Dyke Parks, but Tandyn Almer, the one-time boy-wonder and mysterious poet/artist/creative force-of-nature, whose "Along Comes Mary" to this day remains one of the most audacious mash-ups of lyrics and images ever set to music, and who — to his very last — remained the sole resident of a planet known, apparently, only to him.
36. Fleetwood Mac: "That's All for Everyone"
Album: "Tusk"
Year: 1979
Following the stunning success of "Rumors," Fleetwood Mac had not only more creative clout than any band in history, they had the financial resources of a small country; that's what makes the wild and daring creative chances they took with the experimental "Tusk" so admirable and why this little Lindsay Buckingham beauty, like so many other kernels of greatness on the double album, simply fell through the cracks of public consciousness.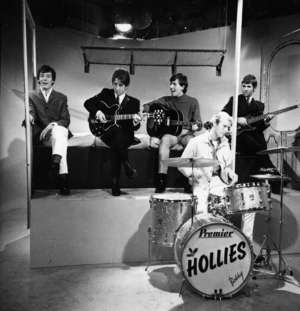 © Getty Images/Getty Images The Hollies performing in a television studio. The Hollies are Allan Clarke, Bobby Elliot, Graham Nash, Tony Hicks and Eric Haydock.
35. The Hollies: "Pay You Back with Interest"
Album: "For Certain Because …"
Year: 1966
Call them a pop band all you want; but not only were the Hollies far better than critics ever gave them credit for being, but this genre-defying, long-forgotten minor classic from the songwriting team of Allan Clarke, Graham Nash and Tony Hicks can hold its own against many of the greatest rock songs ever written.
34. Bruce Springsteen: "Meeting Across the River"
Album: "Born to Run"
Year: 1975
If Edward Hopper's "Nighthawks" had a soundtrack, this might be it; a nocturne for the lonely, the losers and the desperate, played with understated brilliance by keyboardist Roy Bittan and guest trumpeter Randy Brecker.
33. The Band: "Chest Fever"
Album: "Music from Big Pink"
Year: 1968
Certainly not nearly as deep as other tracks that could have made this list, but this song is not only one of the greatest The Band ever recorded (especially live and in concert), but over the years its greatness seems to have somehow escaped all but the fanatics and the truly converted.
32. Aerosmith: "Train Kept A-Rollin'"
Album: "Get Your Wings"
Year: 1974
A decade or so later, Run DMC and "Wayne's World" would team up to make Steven Tyler, Joe Perry and the rest of the band more famous and richer than they probably ever dreamed possible, but they were never any better nor did they rock any harder than they did in this vicious cover of what was originally a 1951 minor R&B hit.
31. The Beatles: "Yes It Is"
Album: "Beatles VI" (U.S. release)
Year: 1965
A beautiful little John Lennon ballad that remains so unknown that, to this day, many Boomers who not only grew up on the Beatles but who were glued to "The Ed Sullivan Show" that night in 1964, have still never heard it.
Listen here.
30. Santana: "Mirage"
Album: "Borbolletta"
Year: 1974
Between his coming-out party at Woodstock and his re-rediscovery at the hands of a new generation of singers and admirers some three decades later, Santana recorded a lot of jazz/funk fusion to mixed results; this song remains one of his shining (and most accessible) efforts during those years he spent wandering the pop culture desert.
29. Led Zeppelin: "Four Sticks"
Album: "Led Zeppelin IV"
Year: 1971
This powerful, driving rocker — so named because John Bonham, in an attempt to give the song the muscle he felt it deserved, and frustrated by what he'd done to that point, finally picked up a second pair of drumsticks and began using a total of four sticks — is so great that, while the band chose to include every song on "Led Zeppelin IV" in their 1990 box set except it, we felt it more than merited a spot here.
Listen here.
28. Crosby, Stills, Nash & Young: "Country Girl"
Album: "Déjà Vu"
Year: 1970
Stick us on a desert island with nothing more than this song, speakers the size of the palm trees, and Neil Young's wailing, mournful, wildly echoed harmonica that plays throughout its spine-tingling fade, and we might just die happy.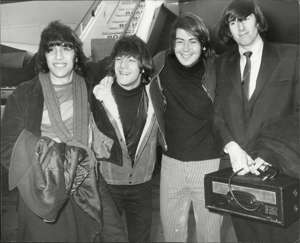 27. The Lovin' Spoonful: "Full Measure"
Album: "Hums of the Lovin' Spoonful"
Year: 1966
History's remembrance of this band as little more than a Top 40 pop act is downright shameful; and while this song was never even a modest hit for the group, its depth, understated sense of maturity and measured beauty serve as proof-positive that the Lovin' Spoonful's music is holding up just as well, if not better, than that of many far more lionized bands from those early days of rock.
26. Rod Stewart: "Mandolin Wind"
Album: "Every Picture Tells a Story"
Year: 1971
If your kids (perhaps rightfully) view Stewart as little more than just one more aging rocker trying to wring what little money there's still to be made from the last of his talent, treat them to this little buried treasure — a Stewart composition, to boot — off an album that, every time you hear it, reminds you of how much great music the man left unmade, and how much more profound his musical legacy could have otherwise been.
25. Emerson, Lake & Palmer: "Still You Turn Me On"
Album: "Brain Salad Surgery"
Year: 1973
ELP were not everyone's cup of tea and, like so many of those '70s-era electronic, keyboard-based neo-classical/gothic rockers from Britain, you had to wade through a lot of noise and extended periods of self-indulgence to find an occasional pearl — but when you did, those pearls proved to be well worth the effort.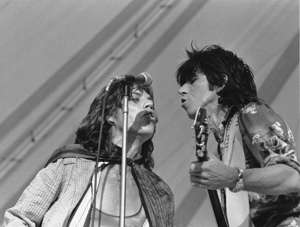 © ASSOCIATED PRESS Mick Jagger, left, and Keith Richards, of the Rolling Stones at the Cotton Bowl in Dallas, Texas, on Sunday, July 6, 1975.
24. Rolling Stones: "Time Waits for No One"
Album: "It's Only Rock and Roll"
Year: 1974
A very un-Stones-like track, with a laid-back groove, a Latin-flavored feel, but more than anything, some remarkable piano work by session man extraordinaire Nicky Hopkins and a worth-the-price-of-admission extended solo by guitarist Mick Taylor in what proved to be his swan song with the band.
23. Simon & Garfunkel: "The Only Living Boy in New York"
Album: "Bridge Over Troubled Water"
Year: 1970
Thanks to movies like "Tadpole" and "Garden State," along with a 2011 campaign for the Honda Accord, this long-forgotten chestnut has been rescued from the pop culture dustbin, but it still has never been given its due and has never received the critical acclaim afforded, frankly, some of Mr. Simon's far more overwrought efforts, like "I Am a Rock," "Sounds of Silence" and "Mrs. Robinson."
22. Wilson Pickett: "Hey Jude"
Album: "Hey Jude"
Year: 1969
Trust us on this one; until you've heard the full four minutes and seven seconds of this deconstructed version, which yokes the muscular pipes of the singular most powerful soul singer known to man to the improvisational brilliance of the greatest slide player to ever plug in a guitar — that being Duane Allman — you have never, ever really heard "Hey Jude."
21. The Doors: "WASP (Texas Radio and the Big Beat)"
Album: "L.A. Woman"
Year: 1971
Another sadly forgotten and long-lost song from the Doors' consistently inconsistent catalog; this one a pulsating, throbbing tribute to the border blaster radio stations Jim Morrison used to listen to as a Navy brat during his brief stay in Texas, an experience that would plant the seeds for what turned out to be a lifelong love affair with loud, brawny, muscular music.
20. The Searchers: "What Have They Done to the Rain?"
Album: "The New Searchers LP"
Year: 1965
Another remarkably talented and woefully under-appreciated British Invasion band that, in this instance, was able to take a simple and otherwise unremarkable nuclear protest song from the early '60s — a musical period piece, if you will — and turn it into something beautiful, slightly hypnotic and, in an odd way, timeless.
19. Velvet Underground: "Oh, Sweet Nuthin'"
Album: "Loaded"
Year: 1970
A long-overlooked song from the band's final album that was rediscovered, if only briefly, when it got included on the soundtrack of the film "High Fidelity," and a song that feels ever-so-slightly different than others in the Velvet canon because it was sung not by Lou Reed (whose voice was apparently shot from touring), but by Doug Yule, the bassist Reed had recruited a year earlier to replace the ousted John Cale.
18. Marshall Tucker Band: "Last of the Singing Cowboys"
Album: "Running Like the Wind"
Year: 1979
No, they weren't the Allman Brothers Band, but they were by far the second best of those long-haired, twin (and sometimes triple) lead guitar Southern Rock outfits that popped up in the '70s, like so many mushrooms; a band whose tuneful and tasteful blend of hip country, lilting jazz and soaring Southern-fried boogie set them apart from their redneck brethren, whose only musical purpose in life seemed to have been to play their guitars as loud, as fast, and as long as humanly possible.
17. Mark Knopfler: Don't You Get It?
Album: "Golden Heart"
Year: 1996
Did you ever wonder what would happen if you took the bridle off that guitar stallion of yours, slapped him on the butt, and let him run free to do the one thing he does better than just about anyone else in the world? What would happen is this soaring little undiscovered gem.
16: Stevie Wonder: As
Album: "Songs in the Key of Life"
Year: 1976
Again, certainly not the deepest track in Stevie Wonder's vast catalog, but a song that — for all its greatness — has never been fully appreciated, and not just for its unabashed expression of love and uninhibited sense of musical playfulness, but for the fact that it features not one, but two once-in-a-generation keyboard marvels: Mr. Wonder and Herbie Hancock.
15. Buffalo Springfield: "Good Time Boy"
Album: "Buffalo Springfield Again"
Year: 1966
One of our guilty pleasures when turning on our Wayback Machine is this faux-garage chestnut delivered with unbridled passion not by Stephen Stills, Neil Young or even composer Richie Furay, but by drummer and Laurel Canyon footnote Dewey Martin.
14: Grateful Dead: "Eyes of the World"
Album: "Wake of the Flood"
Year: 1972
For a band that even devotees had to admit could (and often did) sound like a mash-up of planetary orbits, this breezy little beauty was (and remains) refreshingly coherent; a tribute as much to the Dead's addition of jazz lover Keith Godchaux as it was to their sad and untimely loss of brother and in-house blues purist, Pigpen McKernan.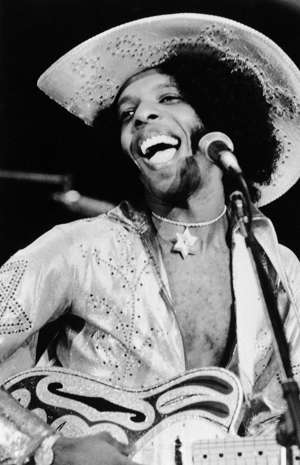 © ASSOCIATED PRESS Sylvester "Sly" Stone of Sly and the Family Stone, 1972.
13. Sly and the Family Stone: "Ride the Rhythm"
Album: "Dance to the Music"
Year: 1968
For all their critical acclaim, most contemporary music fans still fail to grasp either the greatness or the musical/cultural/historical impact of Sly and his Family Stone; but this amazing little groove-fest (which has rarely seen the light of day on radio; even on those early, underground FM stations) is not a half-bad place to start, a celebration of both Stewart's jaw-dropping talents as a singer/songwriter and Larry Graham's almost otherworldly powers as a bassist.
12. Donovan: "Barabajagal"
Album: "Barabajagal"
Year: 1969
First he was the British Dylan, then a psychedelic troubadour and finally a recovering folkie who one day threw caution to the wind in the studio and let whatever would happen happen; and, in this particular case, what happened was a stunning hodgepodge of styles, influences, thoughts and ideas, all made coherent by producer Mickey Most, and all infused with just the right amount of testosterone by the white-hot guitars of Jeff Beck and Ron Wood.
11. Eagles: "Ol' 55"
Album: "On the Border"
Year: 1974
Long before they started taking themselves so damn seriously, the Eagles were a fun band capable of mining the depths of a songwriter's work and finding light in even the most melancholy compositions, like this Tom Waits rumination about the end of a long but special night which the boys were able to transform from something internal and solitary to something … well, communal.
10. Van Morrison: "Natalia"
Album: "Wavelength"
Year: 1978
Critics always seemed to like ripping the dark and brooding Morrison whenever he tried to cast aside any conspicuous attempts at art and go (at least in their minds) commercial; but we have always had a soft spot in our hearts for this bright, bouncy pronouncement of love and devotion to a woman who, for all we know, could have been a Russian mail order bride.
Listen here.
9. John Mellencamp: "Minutes to Memories"
Album: "Scarecrow"
Year: 1985
Very few commercial artists anywhere are any more prone to posturing and preening than the former Johnny Cougar, but in this one very special case, there is not a single note or sentiment that doesn't ring true.
8. Steve Miller Band: "Wild Mountain Honey"
Album: "Fly Like an Eagle"
Year: 1976
We've always had a little trouble wrapping our arms around rock's resident chameleon — after all, so many of his songs seem targeted to those whose idea of a conversation starter is, "What's your major?" — but this little pearl continues to grab our ear on those rare occasions we actually get to hear it.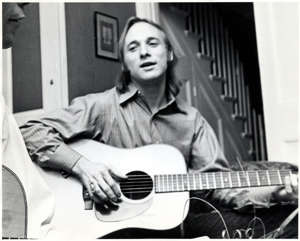 © Associated Newspapers /REX Stephen Stills, January 2, 1970.
7. Stephen Stills: "Old Times, Good Times"
Album: "Stephen Stills"
Year: 1970
A blistering autobiographical romp up the Atchafalaya, highlighted by Stills on the Hammond B3 and driven home by guest guitarist Jimi Hendrix in one of the last pieces of music he would ever record.
6. Herman's Hermits: "No Milk Today"
Album: "There's a Kind of Hush All Over the World"
Year: 1966
Laugh all you want, but even these guys, who so disdainful of their label's cynical attempt to cash in on the U.S. market, they flat-out refused to release either "Mrs. Brown, You've Got a Lovely Daughter" or "I'm Henry VII I Am" in their native England; focus instead on this incredible Graham Gouldman slice of urban life, one of the finest and most deceptively beautiful examples of baroque pop ever recorded. Listen here.
5.Elton John: "Come Down in Time"
Album: "Tumbleweed Connection"
Year: 1970
One of the most beautiful yet melancholy songs of the rock era, not to mention the single most hauntingly effective use of an oboe we've ever heard; from a woefully underrated and long-forgotten concept album about the 19th-century American West, lovingly cobbled together by two British kids who, at the time, probably didn't know a prairie dog from a poodle.
4. Janis Joplin: "Half Moon"
Album: "Pearl"
Year: 1971
This is akin to claiming the emperor's not wearing any clothes, but more than the boozy, screaming, wailing Janis Joplin, we prefer the less-is-more Joplin, the gifted, energetic singer who, when she stopped trying to own a song and decided instead to simply turn down the flame and sing it, had the ability to take our breath away.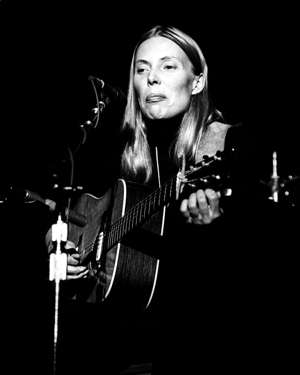 © Larry Hulst/Michael Ochs Archives/Getty Images Joni Mitchell performing at the 'Save the Whales Benefit' in Memorial Auditorium in Sacramento, California on November 20, 1976.
3. Joni Mitchell: "Shades of Scarlett Conquering"
Album: "Hissing of Summer Lawns"
Year: 1975
A song so understated and so subtly alluring that its greatness and emotional power (we have to be honest here) did not become readily apparent to us until we'd heard it at least a half dozen times.
2. Deep Purple: "Lazy"
Album: "Machine Head"
Year: 1972
Very few rock bands ever were blessed to employ two instrumentalists the caliber of Ritchie Blackmore and Jon Lord; and, to listen to those two closet jazz-hounds brilliantly playing off one another at the start of this heavy blues-influenced track, makes you realize how vast the difference can be between a historically great heavy metal band and a merely loud-for-loud's sake one.
1. The Kinks: "Victoria"
Album: "Arthur (Or the Decline and Fall of the British Empire)"
Year: 1969
Arguably, the single most overlooked rock song in history: a combination of Ray Davies' caustic wit and Dave Davies' driving guitar; a song whose wry lyrics and biting working-class cynicism are matched only by the slowly building thunder clouds of its instrumental track; clouds of chugging rhythm which, by the final verse, explode into a kinetic storm of love and rage; a song, like so many rock anthems, meant to be played loud or not at all.
Listen to the entire playlist here.)