Beyoncé and Ed Sheeran wore wildly different outfits during a performance, and people think it sends a message about gender standards

INSIDER
12/5/2018
(Video provided by People)

On December 2, Beyoncé and Ed Sheeran took to the stage together at the Global Citizen Festival in Johannesburg, South Africa, which honored Nelson Mandela, a century after he was born.
As beautiful as Sheeran and Beyoncé's duet of "Perfect" was, a different aspect of their performance set most tongues wagging: their outfits, and specifically, how wildly different they were.
© Youtube (Nigel Hove)/Getty While Beyoncé undeniably brought her A-game in an elaborate hot pink taffeta dress, Sheeran wore a T-shirt, jeans, and trainers. 
And the contrast did not go unnoticed, with many people arguing that it sends an important message about differing gender standards.
Ed Sheeran is a 27 year old man the fact we've enabled him to feel it's ok to dress like this at all, let alone next to Beyoncé really boils my p--- pic.twitter.com/Q6XqgTFuvQ

— shon faye. (@shonfaye) December 4, 2018
I get this.

Even tho I appreciate good musicians in normal clothes the double standard is ridiculous... what is expected of female vs male artists. https://t.co/xLEcNXVuX7

— Fat in Public (@garlicmeg) December 4, 2018
This photo is v v v v representative of what we expect from men and women at the top of their game, isn't it? https://t.co/cfeLw8n1aI

— Daniel (@sillyolddaniel) December 4, 2018
Its nice that Ed Sheeran still dresses like a busker even if he's on stage with Beyoncé possibly the most glamorous woman on the planet. pic.twitter.com/wjzHzMW52m

— Becky (@GRravski) December 4, 2018
However others pointed out that no one should be shamed for what they wear and both megastars were actually just performing in their trademark styles.
let him wear whatever he wants. He's not doing anyone any harm. https://t.co/XTU1bbdJ8M

— Naomigalloway (@mattebitch) December 4, 2018
This is part of Ed Sheerans gimmick. He always wears stuff like this. Also do you really think Beyonce cares? She wanted to perform with him and he wanted to perform with her. Stop worrying about the outfits and listen to the music. You are part of the problem in music. https://t.co/jAY7xI0AYo

— Andy Piluk (@AndyPiluk) December 4, 2018
Others pointed out that Beyoncé and Sheeran's styles are a relatable reflection of many heterosexual relationships.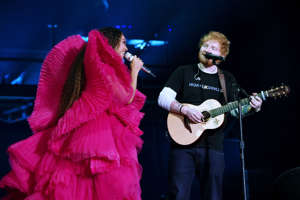 © 2018 Kevin Mazur Beyonce and Ed Sheeran perform during the Global Citizen Festival: Mandela 100 at FNB Stadium on December 2, 2018 in Johannesburg, South Africa. (Photo by Kevin Mazur/Getty Images for Global Citizen Festival: Mandela 100) "Ed and Beyoncé together look like roughly 75% of heterosexual couples." R. Eric Thomas wrote for Elle.
"How many Instagram Stories must I watch where the woman is wearing a full face and dressed to the nines in high fashion and the guy is wearing a potato sack that has 'Supreme' handwritten on it? While on a date at Nobu?! I can't take it!"