DMX tested positive for coke, pot while out on bail in tax case

New York Daily News
8/11/2017
© Provided by New York Daily News DMX Rapper DMX tested positive for cocaine and pot several times while on out on bail in his tax evasion case, a judge said Friday.
The revelations emerged after DMX, whose legal name is Earl Simmons, showed up late for his own bail hearing at Manhattan Federal Court.
An angry Judge Jed Rakoff said the 46-year-old Simmons, who was dressed in a blue tie-dyed Def Leppard t-shirt, violated bail "probably more times than I can even remember."
The gravelly-voiced rapper tested positive for cocaine four times in less than four weeks. He was twice found to have marijuana and opiates in his system as well, the judge said.
"He does have a rap sheet that does suggest more than a passing acquaintance with illegal drugs and more than a passing acquaintance with hand guns," Rakoff said.
But the judge still showed mercy on Simmons — ordering him to home detention with an electronic ankle bracelet rather than sending him to jail.
"When God is with you, who can be against you?" the rapper said afterward.
© Provided by New York Daily News DMX
Simmons was free on $500,000 bond after pleading not guilty on July 14 to evading $1.7 million in income taxes.
In court, his lawyer Murray Richman said Simmons's problems stem from his battles with substance abuse.
"Mr. Simmons is a decent human being," Richman said. "He's caught up with a problem."
Richman also addressed Simmons' courtroom tardiness, blaming the driver who whisked him from Westchester to lower Manhattan.
The driver "took a circuitous route and got here late," Richman said.
Related slideshow: Celebrity mugshots (via Photo Services)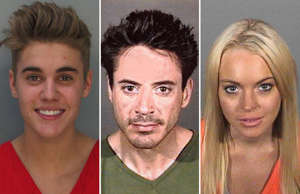 Celebrity mugshots