Garth Brooks offers to pay for newly engaged couple's Hawaii honeymoon

FOX News
7/17/2017
Country music star Garth Brooks said he would pay for a couple's honeymoon to Hawaii after the duo got engaged during his Oklahoma City concert on Saturday night.
Brooks was playing his popular ballad "Unanswered Prayers" when Drew Bargsley proposed to Chelsea Townsend, according to the Sacramento Bee. Brooks stopped his performance at the Chesapeake Energy Arena when he saw the commotion stirring around the newly engaged couple.
A Facebook user caught the interaction on video.

"You guys have a date planned?" Brooks asked Townsend, the new bride-to-be. The woman replied that she had "no idea."
© The Associated Press FILE - In this July 8, 2016, file photo, Garth Brooks sings "Ain't Going Down" during a concert at Yankee Stadium in New York. Brooks, along with Luke Bryan, Chris Stapleton, Carrie Underwood and Keith Urban are nominated for entertainer of the year at the CMAs (AP Photo/Julie Jacobson, File)
Brooks announced to the crowd that he and his wife, Trisha Yearwood, another country music singer and host of Food Network's "Trisha's Southern Kitchen," would pay for the newly-betrothed couple's honeymoon if they went to Hawaii.
© FoxNews.com Garth offers to pay for the couple's honeymoon
The crowd burst into cheers at the proposal and Brooks' generous offer.

"Before we go back, is anyone else getting engaged tonight?" Brooks asked his crowd before continuing his performance.
Related slideshow: Country stars, then and now (via Photo Services)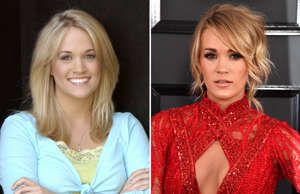 Country stars: Then and now