Prince's Death: 5 Questions One Year Later, From His Will to That Vault of Unreleased Songs

TheWrap
4/21/2017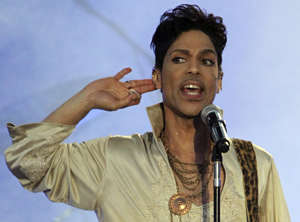 From the investigation into Prince's death to the fate of his reportedly huge backlog of unreleased music, many circumstances surrounding the deceased musician are still as mysterious as the strange glyph that used to serve as his name.
Read on for TheWrap's update on the unresolved issues surrounding Prince's death ...
1. The Death Investigation
© Kevin Winter/Getty Images Musician Prince performs at the Conga Room L.A.
The investigation into Prince's death remains very much open and active. On Monday, authorities in Carver County, Minnesota, released a slew of documents relating to the probe. Notably, newly unsealed affidavits from the investigation said that Dr. Michael Schulenberg had prescribed oxycodone for Prince under the name of the musician's bodyguard Kirk Johnson.
The unsealed records also noted that "there was a sizable amount of narcotic medications located inside Paisley Park" and pill containers were found "throughout the residence" in areas Prince would frequent.
However, the documents shed little light on the source of the fentanyl that the singer fatally overdosed on at his Paisley Park home.
2. What Will Happen to Prince's Fortune?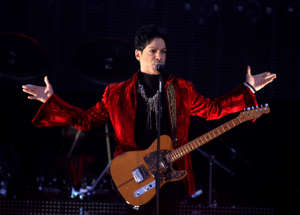 © REUTERS/Laszlo Balogh Prince performs on the main stage during Budapest's Sziget music festival on an island in the Danube River August 9, 2011.
A year after the singer's death, the topic of his estate is still a matter of hot debate.
The search to determine who is entitled to inherit Prince's fortune has been complicated, with more than one dubious-at-best claim being filed, and many claims being tossed. And well into this year, the presumptive heirs to Prince's fortune, estimated between $100 and $300 million, were still arguing over the pile.
In March, the Minneapolis Star-Tribune reported that the presumptive heirs -- Prince's sister Tyka Nelson and half-siblings Sharon, Norrine and John Nelson, Omarr Baker and Alfred Jackson -- had filed legal papers squabbling over how to apply funds from the estate. Perhaps not surprisingly, arguments over attorneys' fees figure prominently in the disagreements, with Sharon, John and Noreen contenting that fees filed by the other three heirs "contain unnecessary expenses."
3. Did Prince Leave a Will or Not?
© REUTERS/Mike Blake/File Photo Prince performs during the halftime show of the NFL's Super Bowl XLI football game between the Chicago Bears and the Indianapolis Colts in Miami, Florida, U.S. on February 4, 2007.
In a related matter, the question of whether Prince left a will came into play again this week. While Tyka Nelson filed legal papers following Prince's death stating that the musician didn't leave a will, Prince's ex-wife, Mayte Garcia, said this week that the "1999" singer did have a will -- at least when they were together.
Garcia, who was married to Prince from 1996 to 2000 and had a son with the singer who died a week after his birth, sat for an interview with Ashleigh Banfield of HLN's "Primetime Justice" to confirm that the singer had in fact made out a will.
"When I was with him he had a will, because I was pregnant," Garcia said in the interview. "And I remember there was a concern about financial stuff. I remember I just started seeing the bills coming in and I went, 'Hey!' And I remember he finally said, 'Don't worry, I have everything taken care of.'"
4. What of Prince's "Vault" of Unreleased Tunes?
© The Associated Press In this Dec. 25, 1984 photo, Prince performs at St. Paul Civic Center in St. Paul, Minn. Prince, widely acclaimed as one of the most inventive and influential musicians of his era with hits including "Little Red Corvette," ''Let's Go Crazy" and "When Doves Cry," was found dead at his home on Thursday, April 21, 2016 in suburban Minneapolis, according to his publicist. He was 57. (David Brewster/Star Tribune via AP) MANDATORY CREDIT; ST. PAUL PIONEER PRESS OUT; MAGS OUT; TWIN CITIES LOCAL TELEVISION OUT
The hyper-prolific Prince reportedly left behind a mass of unreleased music, the vast majority of which remains unreleased. In February, it was reported that Universal Music Group had struck a deal to release Prince's vault music, as well as music released by the musician after 1995, when he went independent following a feud with his label Warner Bros.
However, a timetable for the release of that music remains elusive. TheWrap reached out to a Universal spokesman for an update on Thursday, but has not yet heard back.
5. What's Happening With the "Deliverance" EP?
© The Associated Press FILE - In this Feb. 4, 2007, file photo, Prince performs during the halftime show at the Super Bowl XLI NFL football game at Dolphin Stadium in Miami. Prince died at his home in Chanhassen, Minn. on April 21, 2016 at the age of 57. (AP Photo/Chris O'Meara, File)
This week, as the one-year anniversary of Prince's death approached, a previously unreleased Prince track, "Deliverance," hit iTunes, which also noted that an EP of the same title would be released on Friday and was available for pre-order. However, Prince's estate quickly moved to block the release of the EP in court, and obtained a temporary restraining order on Wednesday night. The TRO will expire at 11:59 p.m. on May 3, 2017, according to court documents obtained by TheWrap -- though it remains to be seen whether it will obtain a permanent injunction against the EP's release. As of Friday morning, the title track was back on sale.