The Rolling Stones Are Recording Their First New Album In 12 Years

OBSERVER
7/24/2017
© The Associated Press FILE - In this Oct. 7, 2016 file photo, Mick Jagger, center, performs with Ron Wood, left, and Keith Richards of the Rolling Stones during their performance on day 1 of the 2016 Desert Trip music festival at Empire Polo Field in Indio, Calif. Jagger, the 73-year-old frontman of the Rolling Stones, was on hand Thursday, Dec. 8, 2016 at a New York hospital when girlfriend, Melanie Hamrick, gave birth to the couple's son. According to a statement, both parents are "delighted" and "mother and baby are doing well."(Photo by Chris Pizzello/Invision/AP) Music fans, rejoice! The Rolling Stones are returning to the recording booth to work on a brand new album. This is not a drill.
Keith Richards confirmed that the band will be getting together "very shortly" to record new music in the latest installment of his fan Q&A web series, "Ask Keith Richards." 
This new album comes on the heels of the band's successful 2016 release of a new blues covers album, Blue and Lonesome. Their last album of original content came way back in 2005 with A Bigger Bang.
"Yes, yes, we are – very, very shortly," Richards answered when asked if the Rolling Stones would be returning to original music making in the future. He added that the band will soon be "cutting some news stuff and considering where to take it next. Blue & Lonesome caught us a little bit by surprise in that we figured it was something we had to do, but we didn't expect the response."
The surprise success of the blues covers album could even lead to a Volume II, Richards suggests.
"I don't think we're going to sucker into that straight away," he said. "But it wouldn't take a twist of the arm to do some more of that. It's such fun to record, and there's plenty more where that came from. I just think the Stones have used it as a boost to their energy and viability in this day and age and see what we can come up with next."
Rumors of the band heading in new musical and creative directions began to crop up earlier this month when Mick Jagger appeared in an Instagram photo with British rapper/grime artist Skepta in the studio.
Could a collaboration be in the works? Once upon a time, the Stones were one of the driving forces behind the British Invasion and helped cultivate the popular counterculture movement among youths in the 1960s. 
© Provided by The New York Observer LLC Rolling Stones New Album It's not crazy to think they'd try to reach younger audiences once again.
Related slideshow: Musicians who are 65-plus and still rocking (via Photo Services)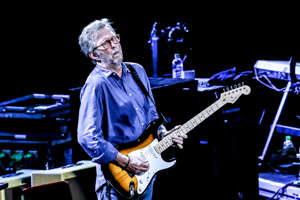 65+ and still rockin'