Will Justin Bieber's New Music Be Inspired by Selena Gomez?

Billboard
4/3/2015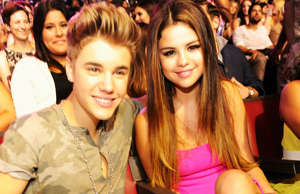 It's no secret that Justin Bieber has been busy cooking up new tunes in the studio. He previously confirmed that he's been getting some assistance from Rick Rubin and Kanye West on the album.
And it turns out that Yeezy has been helping the 21-year-old expand his boundaries as her preps his next studio release.
"I've been in the studio with him for the past month or so. He just pushes you," he told Ryan Seacrest on his radio show on April 2. "He definitely wants it to be my way and my direction and he doesn't want to steal what I want. That's why artists like to go to him, because he pulls something out of you that other people don't."
That something that Kanye is pulling out of him just might be his perspective on his former relationship with Selena Gomez. He confirmed that he would not have a "direct response" to Gomez's "The Heart Wants What It Wants," but the topic of their romance will appear on the album.
"I think a lot of my inspiration comes from [Selena]," he said. "It was a long relationship, a real relationship that created heartbreak and created happiness and a lot of different emotions that I wanted to write about. There's a lot of that on that album."
The album doesn't have a release date yet, but Bieber did reveal that it's "really musical [with] a lot of real instrumentation."
"I just want to create the best piece of art that I can create, something that's really near and dear to my heart. I know there's a lot of stuff that I've been going through over the past few years. I just really want to bleed it on this record. I just want people to know that I'm not playing around, I'm not doing a record that's cookie- cutter, or doing something that I think people want to hear. I want to do something that I know that I can feel and people are going to feel it through my music. I'm pretty silent about what I've been going through, and just growing up in this life is hard. So I want to translate that."
In addition to his return to music, Bieber also shared why he decided to apologize at the end of his Comedy Central Roast, which aired earlier this week.
"I wanted them to understand that I am a real human being," he said. "I think people forget that and I'm growing up, and I'm figuring some stuff out. You have to sometimes go through the downs to appreciate the ups, and I know people probably thought it was a big ol' publicity stunt, but we can do interviews and talk about me wanting to change or me wanting to do this, but I'm here to show people a new walk. I want people to look at me and be proud of me. That was all I really wanted to get across."