Marjory Stoneman Douglas High School shooting in Florida: what we know

Vox.com
2/15/2018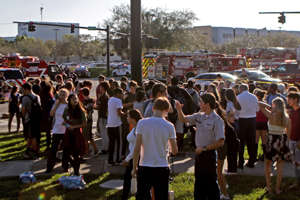 Photo gallery by photo services
At least 17 people are dead. The 19-year-old suspect is in custody.
A shooting at Marjory Stoneman Douglas High School in Parkland, Florida, has left at least 17 people dead and multiple people injured. Students and adults are among the victims, according to Broward County Sheriff Scott Israel.
A 19-year-old male suspect, Nikolas Cruz, is now in custody. Officials identified him as a former student at the high school.
"That should not happen in Parkland, it should not happen anywhere in this country," Broward County superintendent Robert Runcie said Wednesday night. "We have got to find a way for this to stop."
The story is still developing, and the investigation is in its very early stages. Details, including the final casualty count, could change with more information. Here's what we know — and don't.
What we know
President Donald Trump has been briefed on the shooting. He tweeted his "prayers and condolences."
My prayers and condolences to the families of the victims of the terrible Florida shooting. No child, teacher or anyone else should ever feel unsafe in an American school.

— Donald J. Trump (@realDonaldTrump) February 14, 2018
What we don't know
The shooter's motive
The final casualty count
The victims' identities
For more on America's gun problem, read Vox's explainer.