4 dead, others wounded in shooting at Tennessee Waffle House; suspect on the loose
USA TODAY
4/22/2018
Video by CBS News
NASHVILLE — At least four people were killed and four others wounded Sunday when a gunman opened fire at a Waffle House in Tennessee until a patron wrestled the gun away, according to Metro Nashville Police.

The rampage began at about 3:25 a.m. at the Waffle House in Antioch, police said.
The suspect first fired from the parking lot, shooting two men and shattering the glass window at the front of the restaurant before going inside and continuing to pelt the restaurant with bullets, according to police.
Police spokesman Don Aaron said the patron rushed the suspected shooter, disarmed him and threw the assault rifle over the restaurant's counter.
The suspect fled on foot, nude, after shedding his coat, Aaron said.
James Shaw Jr., 29, the patron who disarmed the shooter said he doesn't feel like a hero.
"I don't really know, when everyone said that, it feels selfish," Shaw Jr. said. "I was just trying to get myself out. I saw the opportunity and pretty much took it."
Shaw Jr. said he was grazed by a bullet, treated for a minor gunshot wound and released from the hospital later in the morning.
Chuck Cordero, 50, had come by to grab a cup of coffee Sunday morning when he saw the suspect get out of his vehicle and open fire. He described the suspect shooting through the glass and at a man standing by the door before heading inside.
"He did not say anything," Cordero said of the shooter. "He pulled up, got out of his car and was all business."
Cordero, who works at the Waffle House but was not on the clock at the time, praised the man he saw wrestle the gun away from the shooter.
"He really saved some people. I'm positive he did," Cordero said. "Had that guy had a chance to reload his weapon, there was plenty more people in that restaurant."
Eight people were hospitalized after the shooting, six of them with gunshot wounds. The "hero," who suffered an injury to his elbow and some other abrasions, was treated for minor injuries and released, according to a spokeswoman at TriStar Southern Hills Medical Center.
Travis Reinking, 29, of Morton, Ill., was initially named as a person of interest, and the vehicle the gunman arrived in is registered to him. Later, Aaron said Reinking matches the description of the gunman and was being treated as a suspect.
"If you see a nude guy walking around, call the police immediately," Aaron said. "We believe he may be the suspect in this."
A man believed to be Reinking was last seen in a wood line at an apartment complex near the Waffle House. The man may have donned black pants, police said. Police do not believe the gunman is still armed but said residents in the area should lock their doors.
Nashville Mayor David Briley called it "a tragic day for our city anytime people lose their lives at the hands of a gunman."
"My heart goes out to the families and friends of every person who was killed or wounded in this morning's shooting," Briley said in a statement. "I know all of their lives will be forever changed by this devastating crime."
"There's clearly more to be said about these circumstances, but for now I ask Nashville to pray for and rally around these victims and join me in thanking the Metro Nashville Police Department as it works to find and apprehend the shooter," he said.
Sunday's violence took place less than two miles from the September mass shooting at an Antioch church, where one person died and nine were injured after Emanuel Samson opened fire during Sunday morning services.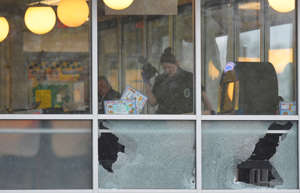 © Harrison McClary/Reuters Metro Davidson County Police inspect the scene of a fatal shooting at a Waffle House restaurant near Nashville, Tennessee, U.S., April 22, 2018.