Deputy shot, two more hurt during Texas shootout

New York Daily News
4/17/2018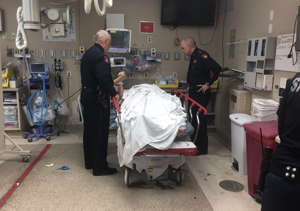 At least one Texas cop was shot and two more injured when a rifle-slinging man stormed out of a home and opened fire Tuesday morning, according to police and local reports.
The three Harris County constable deputies were attacked while approaching a suburban Houston home for a disturbance call around 2 a.m., authorities said.
KTRK-TV reports the deputies managed to return fire, striking the suspect outside the Atasocita house. His condition was not immediately known.
One of the deputies was repeatedly shot during the shootout and was later airlifted to Memorial Hermann Hospital Downtown. He is expected to survive, officials said.
"Our Constable Deputy is in stable condition and is expected to undergo surgery at any time," tweeted Constable Mark Herman, sharing a photo of the wounded law man in a hospital bed.
It was not immediately clear how the two other deputies were injured during the exchange of fire.
This is a developing story and will be updated.