Father charged with throwing baby off bridge pleads not guilty

Hartford Courant
9/11/2015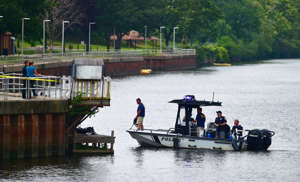 MIDDLETOWN, Conn. — Tony Moreno, accused of throwing his infant son, Aaden, off the Arrigoni Bridge and into the Connecticut River in July, pleaded not guilty to murder charges during a brief hearing Thursday in Superior Court.
Moreno, 21, also waived his right to a probable-cause hearing after a thorough canvass by Judge David P. Gold, who asked Moreno several questions related to whether he understood what it meant to waive his right to the hearing. Moreno responded to the questions and shook his head.
Probable-cause hearings are mandatory in Connecticut for any defendant charged with a crime punishable by life in prison. At such hearings, key witnesses testify and can be cross-examined, and evidence may be entered. Judges rarely rule that probable cause is lacking. Defendants usually waive such hearings.
As judicial marshals escorted Moreno into court Thursday, Moreno, shackled and wearing an orange prison jumpsuit, nodded to his mother and other family members. After the hearing, his relatives declined comment, saying only that Moreno was "doing all right."
Police say Moreno threw 7-month-old Aaden off the bridge and into the river on July 5. An arrest warrant affidavit states that Moreno called his mother from the bridge and asked her to pick up a phone with pictures of the baby and a stroller.
When Moreno's mother, his brother and police officers arrived on the bridge a few minutes later, Tony Moreno jumped over the railing into the river, police said. He was rescued and hospitalized. After a two-day search for the baby by authorities, a canoeist found his body in waters off East Haddam on July 7.
Moreno's public defender, James McKay, would not say Thursday if Moreno is planning to pursue an insanity defense. When asked if Moreno was evaluated or is planning to be examined by mental health professionals, McKay said, "Obviously this is very abnormal behavior. We're taking any steps that you'd expect us to take."
Moreno is charged with murder and murder with special circumstances. The murder with special circumstances charge was added because the victim in this case is under the age of 16. Police have also charged Moreno with two counts of violating a restraining order, saying he violated such an order on June 25 when he talked to Aaden's mother and the baby at a friend's house.
The temporary order was in place after the baby's mother applied June 17 for a restraining order. She was denied a permanent restraining order at a hearing on June 29.
Moreno is being held at the MacDougall-Walker Correctional Institution in Suffield, with bail set at $2.1 million. Gold scheduled his next court appearance for Nov. 17.