Jeffrey Epstein proposes staying in his Upper East Side mansion to await trial for sexually abusing girls

New York Daily News
7/11/2019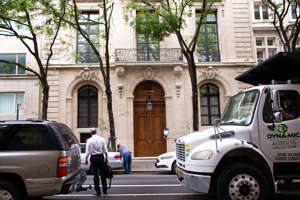 © 2019 Getty Images NEW YORK, NY - JULY 08: A residence belonging to Jeffrey Epstein at East 71st street is seen on the Upper East Side of Manhattan on July 8, 2019 in New York City. According to reports, Epstein is charged with running a sex-trafficking operation out of his opulent mansion. (Photo by Kevin Hagen/Getty Images) NEW YORK - Multimillionaire financier Jeffrey Epstein proposed locking himself up in the Upper East Side mansion where he is accused of sexually abusing underage girls while he awaits trial.
The plan for Epstein to remain in the seven-story townhouse on E. 71st Street monitored by private security guards was part of a 16-page memo outlining a possible bail package. The government argues that Epstein is a flight risk and that he should remain in federal lockup on charges of conspiracy and sex trafficking.
Attorney Reid Weingarten pointed to Epstein's compliance with the terms of his sex offender status since 2008, when he pleaded guilty to two state prostitution charges in Florida as a result of a controversial deal with the feds.
"During the years since his release from incarceration in connection with his Florida guilty plea, Mr. Epstein has been a law-abiding citizen without a single allegation of criminal misconduct during that period and has focused his efforts on business and philanthropy," Weingarten wrote in a memo filed in Manhattan federal court.
"Mr. Epstein respectfully submits that his conduct over the past 14 years proves that he poses no risk of flight or threat to the safety of the community."
The financier is now charged with abusing girls between 2002 and 2005. He's pleaded not guilty and argues that the new charges are "a re-do" of allegations covered by his guilty plea back in 2008. Manhattan prosecutors say they are not bound by that deal.
"If the government is correct that the (non-prosecution agreement) does not, and never did, preclude a prosecution in this district, then the government will have to explain why it purposefully delayed a prosecution of someone like Mr. Epstein, who registered as a sex offender 10 years ago and was certainly no stranger to law enforcement. There is no legitimate explanation for the delay," Weingarten wrote.
Judge Richard Berman will hold a hearing on the proposed bail package Monday.
© Palm Beach County Sheriff Office/Palm Beach County Sheriff Office/TNS Jeffrey Epstein. Visit New York Daily News at www.nydailynews.com