Last of 4 defendants pleads guilty to beating teen with disability in livestreamed Facebook attack
Chicago Tribune
7/12/2018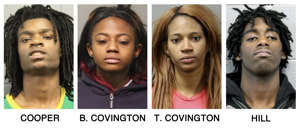 © Associated Press These booking photos provided by the Chicago Police Department show, from left, Tesfaye Cooper, Brittany Covington, Tanishia Covington and Jordan Hill, four people charged, Thursday, Jan. 5, 2017, with aggravated kidnapping and taking part in a hate crime after allegedly beating and taunting a man in a video broadcast live on Facebook. (Chicago Police Department via AP) CHICAGO - A fourth and final defendant pleaded guilty Thursday to a hate crime for taking part in the beating of a teen with mental disabilities that was livestreamed on Facebook.
Tesfaye Cooper, 20, turned to face the victim's family, saying in a barely audible voice, "I do want to apologize for the pain I put y'all through."
Cook County prosecutors detailed at length what they called the "physical abuse and mental torture" that the teen suffered. Authorities have said the victim, who was 18 at the time of the attack in January 2017 and friends with one of his assailants, has schizophrenia and attention deficit hyperactivity disorder.
The gruesome video of the four African-American defendants attacking the white victim drew widespread condemnation, including from then-President Barack Obama. Right-wing pundits used it as a rallying cry, tying it without evidence to the Black Lives Matter movement and blaming permissive policing.
Cooper also pleaded guilty Thursday to aggravated kidnapping, but Judge William Hooks delayed sentencing to give Cooper's lawyer more time to prepare an argument for leniency.
Cooper features prominently in the video footage of the attack, introducing himself to the Facebook Live audience as "Hothead," prosecutors said Thursday.
He and co-defendant Jordan Hill ordered the victim into the corner of a West Side apartment, making him face the wall and say things such as "I love black people," Assistant State's Attorney Risa Lanier said. Cooper and Hill taunted the teen with knives and sliced up his sweatshirt, hair and scalp while the teen was tied up and gagged, Lanier said.
At one point, Cooper took the cellphone from co-defendant Brittany Covington while it was still streaming live to her Facebook, Lanier said. He then turned the phone's camera onto the victim and captured footage of Covington slapping him, according to the prosecutor. Cooper then instructed Covington to hit him again, she said.
Another video, uploaded to Cooper's Facebook page, shows the co-defendants forcing the victim's head into a toilet, Lanier said.
With the victim's family sitting in the courtroom's jury box, Lanier read a lengthy statement from the teen's sister describing how the attack had turned the family's world upside down.
"That 18-year-old was our son, our brother, our uncle, but most importantly a human being," Lanier read aloud in court. "The lack of compassion and complete disregard for (his) life was incomprehensible."
Hill, described by prosecutors as the ringleader, pleaded guilty last week to the same charges and was sentenced to eight years in prison. Covington and her sister, Tanishia, have also pleaded guilty to a role in the assault.
Visit the Chicago Tribune at www.chicagotribune.com