Owner's son, roommate arrested in drive-by shooting after bad restaurant review, records say

Orlando Sentinel
9/14/2018
© 2018 HERE/Microsoft Daybreak Diner, Orlando, Fla. The son of the owner of a restaurant was arrested Wednesday after he and two other men participated in a drive-by shooting into the home of a person who gave the business a bad review, according to an arrest affidavit.
Michael Johnson, 41, and his roommate Jesse Martin, 23, are facing charges of shooting into a building, shooting from a vehicle and abuse of a disabled person. A third person, Norman Auvil, was arrested last month on the same charges.
Orange County deputies say Monica Walley wrote a Facebook post on Aug. 20 claiming that Daybreak Diner on Curry Ford Road near Crystal Lake Drive refused to serve her disabled mother, the affidavit said.
The three men were drinking beer that night and were angry about the review, the affidavit said.
Martin found Walley's address online, and the trio drive to the home "with the intent to harm someone" or cause property damage, according to the affidavit. With Johnson driving and Martin navigating, Auvil fired three shots into the home when they drove by, the affidavit said.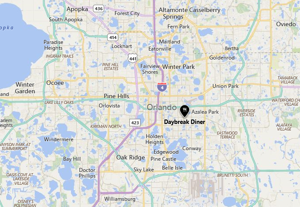 © Bing Maps One of the shots went through a window and nearly hit someone sitting on a couch, deputies said. No one was injured.
Martin and Johnson have since bonded out of the jail. Auvil remains on a $4,300 bond.
dharris@orlandosentinel.com, 407-420-5471 or @DavidHarrisOS