Federal judge orders 6 indicted Baltimore officers to be held pending trial

Baltimore Sun
3/3/2017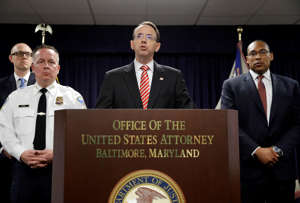 BALTIMORE — A federal judge on Thursday ordered that six Baltimore Police officers be held in detention pending their trial on racketeering charges, saying no conditions of release were sufficient to ensure public safety.
U.S. Magistrate Judge Stephanie Gallagher said the allegations against Detectives Momodu Gondo, Evodio Hendrix, Daniel Hersl, Jemell Rayam, Maurice Ward, and Sgt. Wayne Jenkins, six of seven officers indicted in the alleged scheme Wednesday, suggested "an egregious breach of public trust" and a "flagrant disregard of consequences of their actions."
She said the detectives' extensive law enforcement experience provided them with an "unusual ability to find ways around" potential conditions of their release.
Her decision came after five of the officers pleaded not guilty to the federal racketeering charges against them, which carry decades of potential prison time. Jenkins did not enter a plea. The seventh officer, Marcus Taylor, has a detention hearing Friday.
Federal prosecutors alleged the officers robbed Baltimore residents, fabricated court documents and filed fraudulent overtime claims.
"This is not a case of overzealous policing. These are robberies and extortions," said Assistant U.S. Attorney Leo Wise.
Appearing at an event Thursday, Baltimore Police Commissioner Kevin Davis said there would be widespread fallout in the agency as a result of the indictments. He said he has already ordered some plainclothes officers to wear uniforms, and said there would be "a lot of reviews, a lot of investigations and a lot of audits" with regard to overtime pay and other areas of the agency.
"That scandal, and that's exactly what it was, has ramifications, and it has ramifications for policies, procedures, protocols. It has ramifications for people who were in leadership positions as well," Davis said.
Baltimore State's Attorney Marilyn J. Mosby said her office was continuing to review cases brought by the indicted officers. On Wednesday, one case was dropped and prosecutors said three more cases were dropped Thursday.
"The cases that we can save, that aren't dependent on just the credibility of these officers, we are going to attempt to salvage," Mosby said. "For those cases in which it is just going to rely on the credibility of these officers, we don't have a choice but to get rid of them. It's something the city has to understand."
In U.S. District Court, Wise said witnesses in the case are "terrified" they will face retribution from the officers. He said the officers have shown they are capable of evading supervision by the police department and the U.S. Department of Justice, which was investigating the department during the time of the alleged crimes, and would not think twice about evading whatever conditions are put upon them by pretrial services if they were released.
Wise said the officers are well trained in "counter law enforcement tactics."
He also alleged that other officers in the police department and an assistant state's attorney in the Baltimore State's Attorney's Office had tipped the officers off to the federal investigation into their actions before the investigation was concluded, suggesting they could have connections in law enforcement they could continue to use inappropriately if they were released before trial.
Mosby said she was not aware of a claim that a member of her office had tipped the officers to the investigation.
Attorneys for Hendrix and Ward both questioned their clients' involvement in the alleged crimes, pointing to places in the indictment where allegations were made about the other five officers committing acts, but not their clients.
"It's not enough," said Paul Enzinna, Ward's attorney. "You can't rely on guilt by association to hold Mr. Ward in custody."
The attorneys said their clients have never been in trouble before.
Hendrix's attorney said his client is a father of five and a Navy veteran who lives in Randallstown.
Ward's attorney said his client is a lifelong Baltimore resident with three children.