Two Women, Two Girls Trapped Inside Home When Gunman Opened Fire On Philadelphia Officers Say Police Saved Them

CBS Philadelphia
8/15/2019
PHILADELPHIA (CBS) — Two women and two girls escorted from the scene where six Philadelphia police officers were shot say police saved them after they were trapped inside a Nicetown-Tioga home where the suspected gunman was barricaded inside. They say they were on the second floor at the time of the shootout.
"I thank God for these cops. They're good people. Don't say nothing bad about them, they kept us safe the whole time," one of the women told CBS3.
Gunfire erupted when a warrant was being served at the location on the 3700 block of North 15th Street around 4:30 p.m., police say. Officers were first called to the scene for narcotics activity, according to Philadelphia Police Capt. Sekou Kinebrew.
The gun battle between police and the suspect is still active. CBS3's Greg Argos has learned the suspect has a long rifle gun and people outside their homes are being pushed back as the standoff continues.
Officers are trying to communicate with the shooter in attempts to get him to surrender.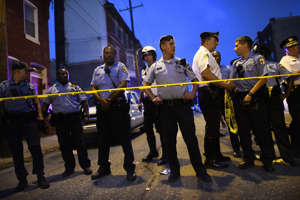 Slideshow by photo services