Will Staten Island Mob Hit Lead to New Gangland War?

Inside Edition
3/14/2019
Video by Reuters
Does a shocking murder mark the return of one of America's most powerful mafias?
Francesco "Frank" Cali, 53, the alleged leader of the notorious Gambino crime family, was gunned down outside his home in Staten Island, New York, Wednesday. It was the first mob boss killing since 1985. 
Cops say Cali was shot six times in the chest then run over by a blue pickup truck outside his home in the Todt Hill neighborhood of the borough. 
The killing comes 34 years after the gruesome assassination of then-crime boss "Big" Paul Castellano outside Manhattan's Sparks Steakhouse. That 1985 murder was ordered by the infamous John Gotti aka the Dapper Don. He died in federal prison in 2002. 
Wednesday's slaying of Cali sent shock waves through the neighborhood, which is considered one of the most exclusive areas of Staten Island. One witness said the gangster was found on the ground face-up, his head by the open door of his SUV. He was rushed to Staten Island University Hospital North, where he was pronounced dead.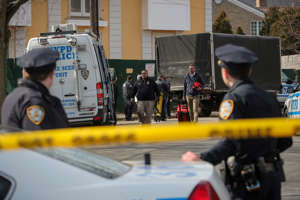 © REUTERS/Brendan McDermid New York City Police officers (NYPD) investigate the scene where, reported New York Mafia Gambino family crime boss, Francesco "Franky Boy" Cali, was killed outside his home in the Staten Island borough of New York City, U.S., March 14, 2019. Investigators believe that the alleged gangster may have been lured out of his home after hearing someone hit his vehicle Wednesday night. 
Tommy Hyland, a former NYPD detective who investigated the mafia, told Inside Edition this murder feels personal. 
The murder comes just months after Gotti's brother, Gene, was released from prison, where he served 29 years.
It was reported that mob bosses have been "living in fear" and many wondered whether the ruthless heir apparent would "demand that he resume his role or even insist on a higher rank."
There is no evidence of Gene's involvement. Investigators are still determining to see if it was an ordered hit made by organized crime or a rogue shooter or shooters. 
Police say there are no arrests in Cali's death and they are still investigating.