Mother of missing B.C. girl works to keep her story alive
A special message from MSN:
This month we're working with the National Center for Missing and Exploited Children and other organizations to help reunite missing kids with their families. Together, through raised awareness and Microsoft technology like facial recognition and cloud computing, we're making progress. You can help, too. Please consider donating.
© Missing Children Society of Canada Lindsey Nicholls
It will be 25 years this Aug. 2 that Lindsey Nicholls was last seen walking down a rural road in Vancouver Island's Comox Valley, a 14-year-old, who may, or may not have been hitchhiking, or could have been abducted.
They Royal Canadian Mounted Police classified her file "Foul Play Suspected". The circumstances of her disappearance remain a mystery.
Her mother, Judy Peterson, believes someone knows what happened to Lindsey and she works hard to keep people from forgetting that the story still has no conclusion.
Peterson, who still lives in B.C., has answered some questions about Lindsey and her life since her daughter disappeared on the occasion of International Missing Children's Day.
Q. You try to keep Lindsey's story alive, why? 
I truly believe that someone knows something.
I also believe that with time, that person or persons will have the courage to come forward. Perhaps they actually know what happened. Maybe they just have a feeling or some sort of small piece of information that could be included with everything else to shed light and help focus the investigation.
The hope of finding answers keeps us working on keeping her disappearance in the public eye.
Q. Is Missing Children's Day important to you and if so, why?
Missing Children's Day is important because it highlights all the families that are in the same position as ours. It raises public awareness of this issue.
One of the best descriptions I have seen was a quote from a coroner. He said that having Missing Persons is really the same as having a national disaster – it's just that instead of happening on one day, it happens over time.
All anniversaries and special days are difficult. I have never really been able to understand why… but have learned to just accept that they just are.
I often wonder why her birthday, Mother's Day or any other special occasion is harder than the day before. She is still missing on either side of the day, but somehow the lead up and the actual day can often be an emotional rollercoaster.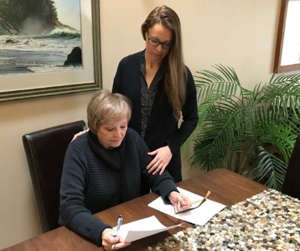 Q. Was there something you did specifically because of Lindsey's disappearance?
For the past 20 years I worked on lobbying the Canadian government to add Missing Person and Found Human Remains DNA profiles to the RCMP's National DNA Databank.
I am so proud that the eventual legislation was nicknamed "Lindsey's Law" after my daughter.
In March 2018, these new indices were launched and finally families will be able to add DNA to find out if their loved one's remains have been found anywhere in Canada.
I signed the consent documents and Lindsey's DNA was the first profile loaded.
I hope that Missing Children's Day will raise awareness of this new investigative tool and that families will contact their investigator to ensure they can start the process to be included.
As more and more profiles are loaded from coroner's offices and families of the missing, some of us will start to get answers and maybe justice.
Q. Are you still in touch with police about Lindsey's case?
Yes, I am in contact with the investigator at least a couple of times a month depending on what is happening.
Of course, over the years the investigator assigned has changed several times due to transfers and retirements. Although most have been incredibly dedicated and understanding, these transitions are always difficult as they get up to speed on the file.
The relationship with the investigator is complex and requires trust on both sides which takes some time to build.
Q. Do you think Lindsey is still alive?
That's difficult – I can't believe that she would be out there and not contact someone in our family if she possibly could. She was so close to her sister, grandparents, aunts, uncles and cousins.
The other side is that it's hard to imagine that she's actually gone.
The hardest part of not knowing is that I can just as easily visualize answering the door and seeing Lindsey as I can seeing an RCMP Officer.
Q. What do you wish people would say to you about Lindsey's disappearance?
I don't really have a specific thing that I wish people would say, but I do appreciate it when people acknowledge the issue in some way.
I know it may be difficult, but I am grateful to be able to have even a short conversation so that it's not the elephant in the room.
Q. Do people treat you differently when they hear the story?
When I explain I have a missing child, people look shocked and I know they are processing the information and thinking of their own family members. They just cannot go there – and almost without exception, they physically shake their head and say "I can't even imagine." 
What's so hard, is that I can't even imagine either. It seems unbelievable that this has happened to Lindsey and our family.
Q. What advice would you give parents?
If your child is missing, know that the police must investigate. Don't let them 'wait and see' as you could miss those crucial first hours and days when the public's memory is fresh.
Insist on neighbourhood enquiries. Ask for help from agencies such as Missing Children Society of Canada and utilize social media as well as traditional media.
Q. Your circumstance thrust you into the public eye. What have you learned about handling the media?
Prepare – get help and try to anticipate questions and prepare answers. Decide and practice the message you want to get out.
Know that you don't have to answer each question they ask. Use the technique of acknowledging and then switch to your message: "Yes, of course our family is devastated, but what's important is that anyone with any information comes forward as soon as possible so that we can bring her home safely."
Try to be brief as they only have one or two minutes to put together for the news and they will cut several segments together.
Q. This summer will mark 25 years since she disappeared, what will you do to mark that anniversary?
Aug. 2, 2018 marks the 25th anniversary of her disappearance, and we are busy planning the media strategy to focus on the message of "someone knows something".
The final piece of the puzzle is out there, and we are so hopeful that this significant milestone will encourage everyone to come forward with whatever small piece of information they may have.
If you know anything about Lindsey Nicholl's disappearance, call Comox Valley RCMP at 1-250-338-1321, or the Missing Children Society of Canada 1-800-661-6160.