Inside the perks and privileges of high-stakes gambling

CBS News
10/5/2017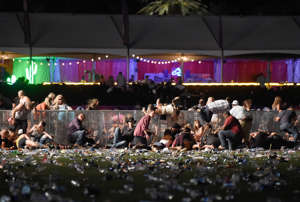 Photos: 2017 Las Vegas shooting Las Vegas gunman Stephen Paddock was a familiar presence at casinos around Nevada. Paddock, who spent a lot time gambling in the days before the attack, was part of an elite group of wealthy high-rollers.
On the strip, there are different kinds of gamblers: those who come with fun money, and those with serious money. It's those serious gamblers, like Paddock, who are usually treated a bit differently, reports CBS News correspondent Anna Werner.
Could Las Vegas gunman's gambling habits reveal his motive?
High-rollers, who spend tens of thousands of dollars and are repeat customers, help keep casinos' bottom lines flush. "He'd text me a picture that he won $40,000 on a slot machine, but that's just the way he played," said Eric Paddock, of his brother Stephen. Sources tell CBS News that over a dozen currency transaction reports were generated related to Paddock's gambling. Those reports are filed when $10,000 or more is moved through a banking system or casino.
Watch: Las Vegas gunman planned to escape, official says
"Anybody who's going to be playing at the levels that have been reported for him puts him in high-roller status for sure," said Anthony Curtis, who runs the website Las Vegas Advisor and is a former professional gambler.
© CBS News ctm-100517-high-rollers.jpg "He would be able to get a lot of perks complimentary from the casinos, definitely at a very high level," Curtis said of Paddock, assuming he was gambling with high amounts of money. "When he comes through the door, there's going to be things waiting for him. He's going to be able to request the sort of accommodations that he wants." High-rollers often get their meals, tickets to shows, and even their rooms "comped" -- in other words, free. According to the Associated Press, Paddock's Mandalay Bay suite Sunday night was one he specifically requested and got for free because he gambled thousands at the hotel's casino.
University of Nevada Las Vegas gaming professor David Schwartz says what high-rollers ask for, they usually get."Generally the idea is, if you can get it and of course if it's legal, you don't want them to leave your hotel to go to another hotel to get it, so they will try to accommodate all sorts of things like that," Schwartz said. 
Curtis also said there are actually relatively few true high-rollers here on the strip, so casinos compete to keep the ones they do have.