Sharona who? Here's what the inspirations for 7 love songs actually look like

HuffPost
8/2/2015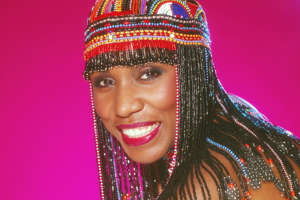 If you've ever been listening to a song and subsequently wondered what Sharona or Mr. Jones or Delilah actually looked like, this is for you. 
1. "Layla," written by Eric Clapton = Pattie Boyd, George Harrison's wife at the time. She also inspired The Beatles' "Something."
"I wasn't so happy when Eric wrote 'Layla,' while I was still married to George," Boyd told The Guardian in 2008. "I felt I was being exposed. I was amazed and thrilled at the song -- it was so passionate and devastatingly dramatic -- but I wanted to hang on to my marriage." Boyd expressed that she was overwhelmed with Clapton's "public declaration of love," and she "resisted his attentions for a long time" as she didn't want to leave Harrison. Clapton and Boyd wed in '79, two years after her marriage with the Beatle ended.
Boyd also told The Guardian earlier that year: 
I think I was a romantic inspiration to Eric and George because I gave as much as I could to them both, to the detriment of myself. I was always there for them. Which I think is really what a muse is. You are living your life for somebody else.   
2. "My Sharona," by The Knack = Sharona Alperin, the lead singer's girlfriend at the time.
NPR profiled Alperin in 2010, where she explained that Doug Fieger, who wrote the song, was nine years older than her when they met while she was a teenager. He apparently became infatuated. The two were introduced by Fieger's girlfriend at the time and, just a couple months later, he told Alperin, "I'm in love with you, you're my soulmate, you're my other half, we're going to be together one day."
Alperin had a boyfriend at the time, as well, but about a year later they broke it off, and Fieger played her the song. The two ended up dating and remained close until his death in 2010.
That's actually Alperin posing on the single art, wearing what she told NPR "was, like, [her] normal outfit, what [she] wore all the time."
These days, she's a Los Angeles real estate agent.  
3. "Maps," written by The Yeah Yeah Yeahs = Angus Andrew, Karen O's boyfriend at the time and the lead singer of Liars.
"Maps" was secretly an acronym for "My Angus Please Stay," as Flavorwire explained in 2013. 
In the song's music video, lead singer Karen O memorably tears up while singing, which she told Contact Music in 2007 were real tears, due to Andrew seemingly blowing off the shoot.
They were real tears. My boyfriend at the time was supposed to come to the shoot -- he was three hours late and I was just about to leave for tour. I didn't think he was even going to come and this was the song that was written for him. He eventually showed up and I got myself in a real emotional state.  
4. "You Are the Sunshine of My Life," written by Stevie Wonder = Syreeta Wright, Wonder's wife at the time and a singer/songwriter.
It isn't entirely clear whether Wonder wrote this song about then wife Wright, though as The Billboard Book of Number One Hits explains, Wright certainly influenced Wonder to become more meditative and admiring, traits that are reflected in this song.
Wright started as a secretary at Motown records -- where she and the star met -- before her own musical prowess was realized both by the label and Wonder. She had a short marriage with him that ended around the mid-'70s (though the exact year is debatable).   
5. "Hey There Delilah," by Plain White T's = Delilah DiCrescenzo, who met the lead singer through a friend, but had a boyfriend.
DiCrescenzo went on "Today" in 2008 when this track was up for "Song of the Year" at the Grammys. The lead singer of Plain White T's, Tom Higgenson, had written the song five years prior after being introduced to DiCrescenzo -- a runner who would go on to become an Olympic hopeful. She had a boyfriend at the time, but Higgenson still insisted he was going to write a song about her.
"I thought he was just being flirtatious and leading me along," DiCrescenzo said during the "Today" interview. "I had a boyfriend at the time, so I really didn't believe him."
She heard the tune after Higgenson dropped off his CD at her house. "It was flattering," she wrote on ESPN. "The song is catchy, melodic. It's very romantic. It means something to everybody -- especially for anybody who ever yearned for someone."  
6. "Femme Fatale," by The Velvet Underground = Edie Sedgwick, a Warhol model and famous heiress. 
Andy Warhol was the manager of The Velvet Underground at the time they wrote "Femme Fatale" in the mid-'60s. The pop artist asked Lou Reed (according to his biography) to write a song about one of his models, Sedgwick. 
Biographer Victor Bockris quotes Reed in the book, Transformer: The Lou Reed Story, as saying, "Andy said I should write a song about Edie Sedgwick. I said, 'Like what?' and he said, 'Oh, don't you think she's a femme fatale, Lou?' So I wrote 'Femme Fatale' and we gave it to Nico."  
7. "Me and Mr. Jones," by Amy Winehouse = Nasir Jones, aka Nas, who collaborated with Winehouse.
In 2011, Nas confirmed the rumors that this Winehouse song was about him. It had been speculated on since the song's 2006 release, based on the fact that the lyrics mention both his daughter's name and his birthday (which he shares with Winehouse). It was also public knowledge that the two were close and musically collaborated.
In confirming the rumors, Nas said that his friend and producer Salaam Remi had told him about the song while working on it with Winehouse, and explained, "I heard a lot about it before I even heard the song."
Nas ended up releasing a posthumous collaboration with Winehouse in 2012 -- "Cherry Wine" -- after receiving the blessing to do so from her family.
Also on HuffPost:
For a constant stream of entertainment news and discussion, follow HuffPost Entertainment on Viber.